Sales Coach "Next Steps" Turns 💡Insight Into ⚡️Action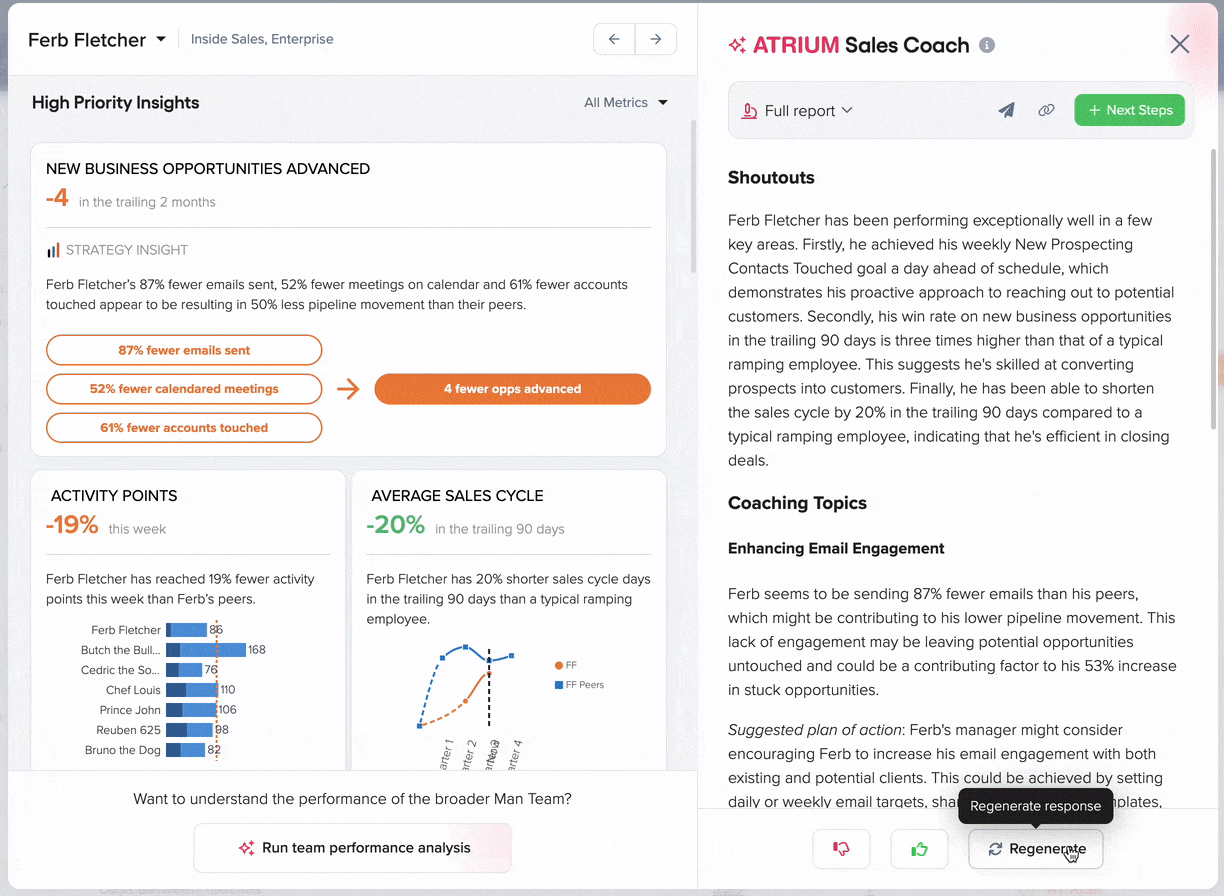 Sales Coach "Next Steps" generating a number of management actions - automatically.
Since we first launched Atrium's AI Sales Management Assistant, "Sales Coach" in July, the customer feedback has been absolutely amazing.

Using AI to help sales managers, reps, and leaders to better improve team performance using data is clearly the future. Business-users struggling to interpret byzantine dashboards is on its way to the history books.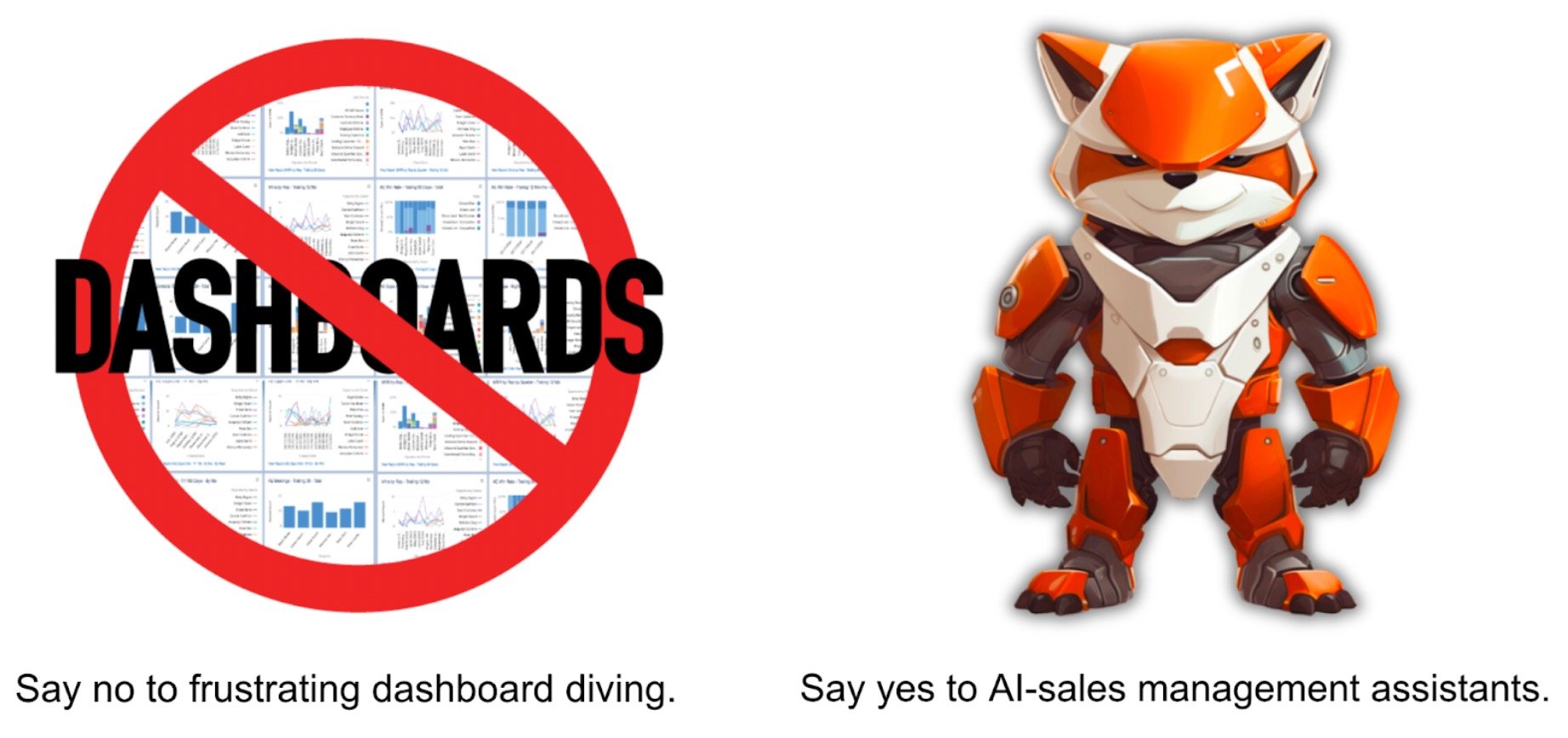 Action Oriented: But even as our customers were so excited about Sales Coach's ability to help them interpret and synthesize performance data at a rep, team, and org level, and recommend potential actions to make the most of any given situation, they wanted to do more with AI Sales Management.
Could we help them take action on Sales Coach's synthesis and recommendations?
It turns out - we can!
We're excited to announce Sales Coach "Next Steps", Atrium's new functionality that helps sales managers, reps, and leaders turn insight into action.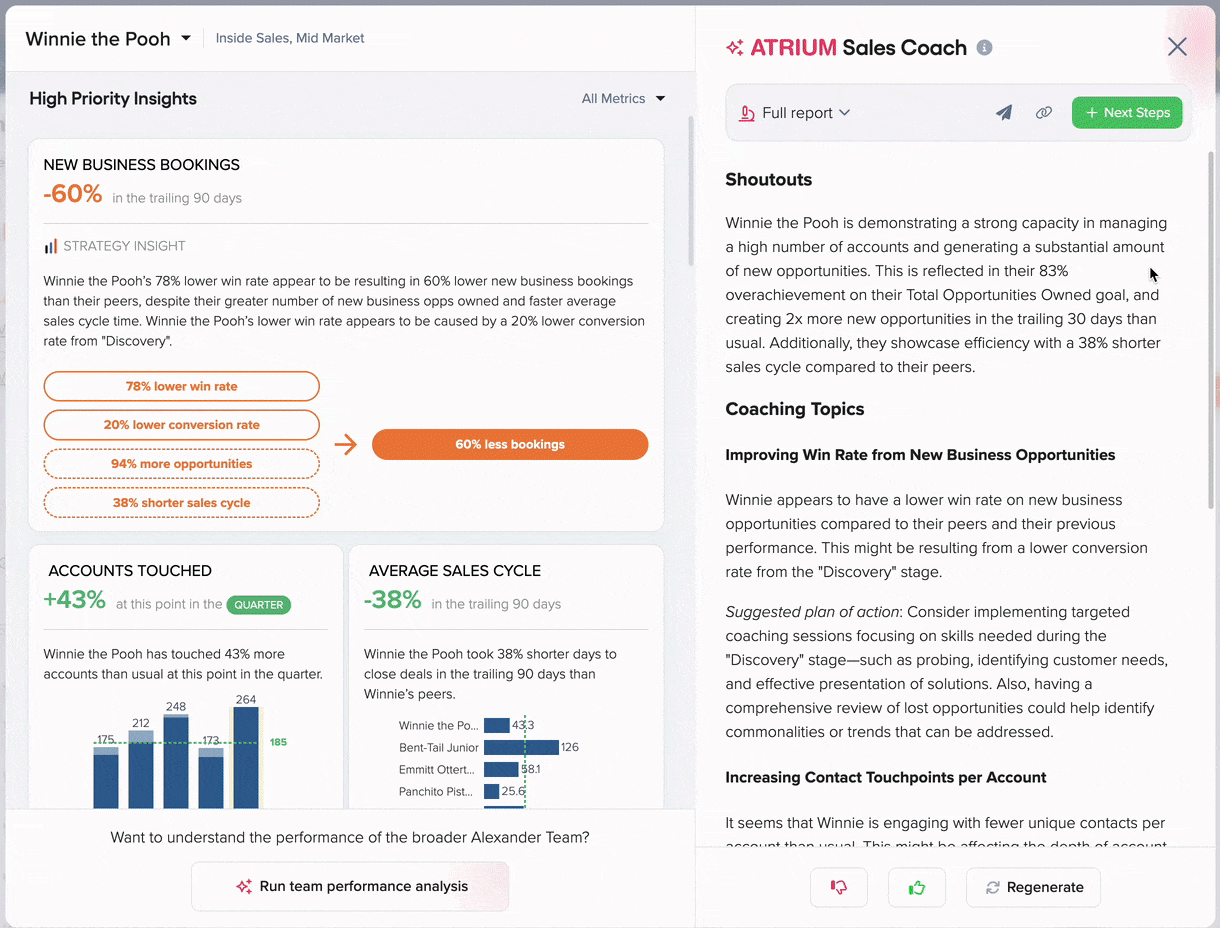 Sales Coach "Next Steps" generating a rep-facing "High Five" communication.
While consuming rep performance metrics to make sense of a situation, and then knowing what to do about that situation is already hard enough - managers, reps, and leaders still need to take action to change rep behavior.
To quote one of our customers, "We're not here to admire a problem." We want to fix it!
And for a manager, often that means drafting a communication, coming up with some talking points, or documenting some steps for coaching a rep.
Sales Coach Next Steps does just this, starting with three action types to start - "High Five" communications, "Coaching" communications, and custom-generated Enablement Plans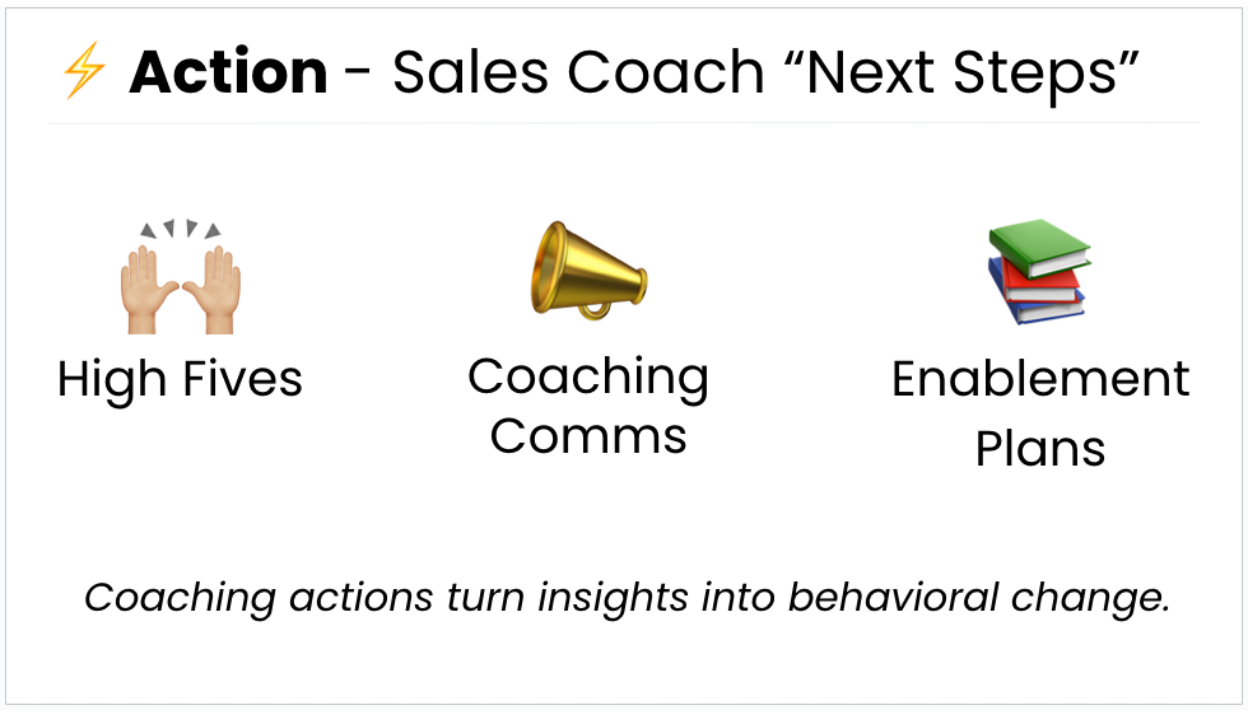 Here's a demo by Atrium CEO, Jason Heidema (YouTube):
Full "AI Day 2" Presentation on Sales Coach history and roadmap (YouTube):
High Five Communications: Sales is hard! So managers and leaders need to use frequent praise and encouragement to keep momentum up and morale high. But managers can't just make things up - targeted, performance-based praise and encouragement reinforces the right behaviors, and shows reps that the manager sees their hustle.

Sales Coach's "High Five Communications" will automatically draft a rep or team-facing communication of praise and encouragement - focusing in on specific areas of outperformance to celebrate, and make examples of.

High fives should be given early and often by managers and leader - and this makes it that much easier to do so.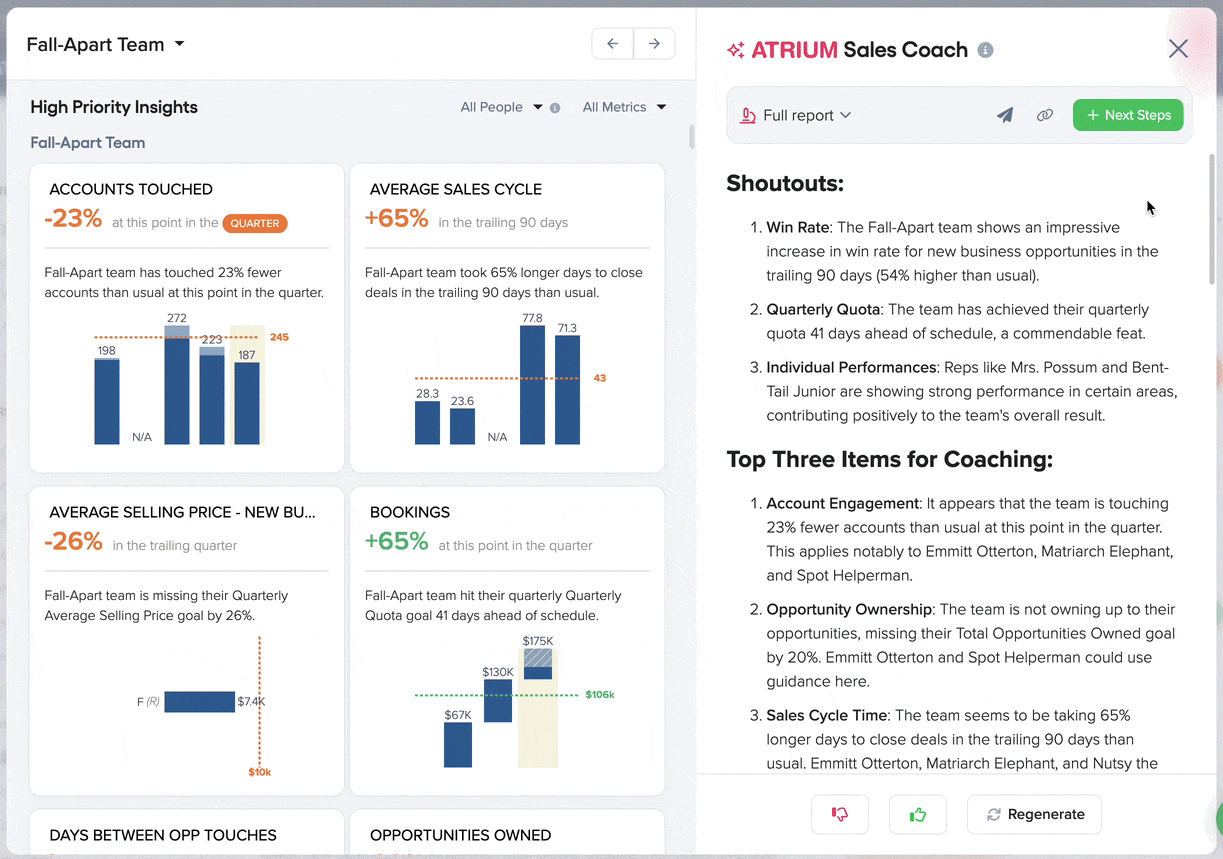 Team-facing "High Five" communication.
Coaching Communications: While praise and encouragement is important, as managers and leaders, we're here to measure, manage, and improve performance. And that means spotlighting and coaching on areas of improvement.
But finding the right words to thoughtfully communicate coaching can be tough - so sometimes managers will avoid the task. But constructive coaching is the only way to improve rep and team performance - so no one wins when managers struggle to coach.
Now, with Sales Coach's "Coaching Communications," managers and leaders can automatically draft a suggested coaching communication (starting of course with positivity) focused on the top improvement areas for a rep or team.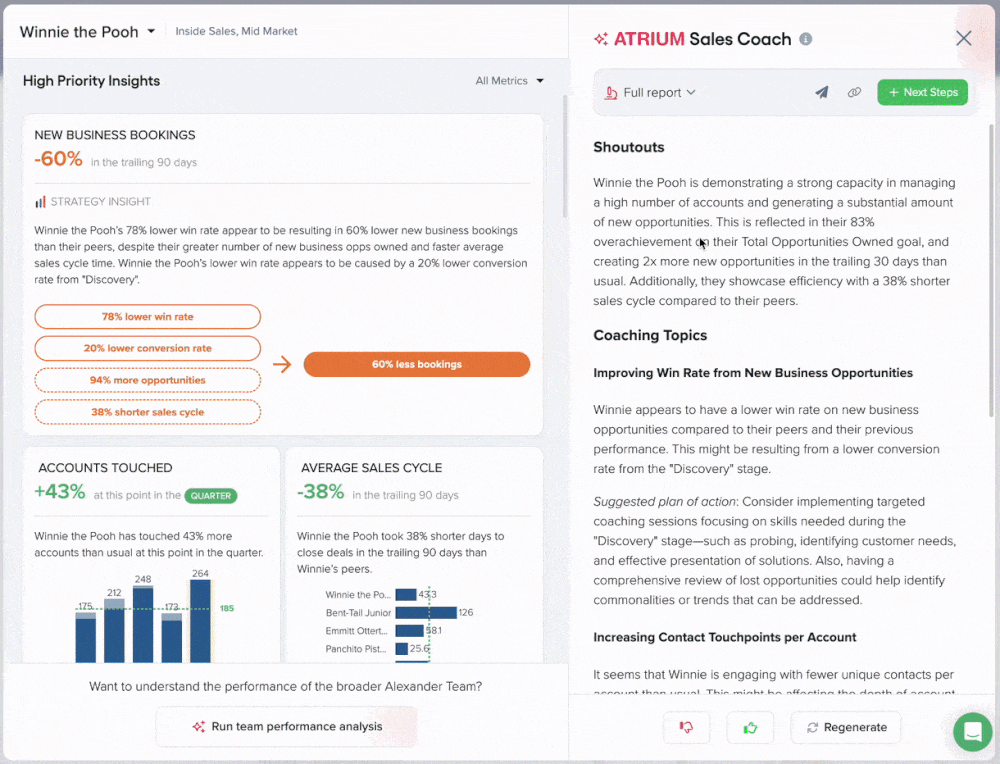 Rep-facing Coaching Communication
Enablement Plans: Lastly, Sales Coach now allows users to generate a custom, data-based "Enablement Plan" for a given rep, team, or organization.
These Enablement Plans focus on the largest topic for improvement for a given rep or team, based on their Atrium performance data, explain why that topic matters, and then provides up to five concrete steps to consider for improving the topic in question.
It's like having a dedicated assistant sales enablement manager for each and every one of your reps, managers, and leaders.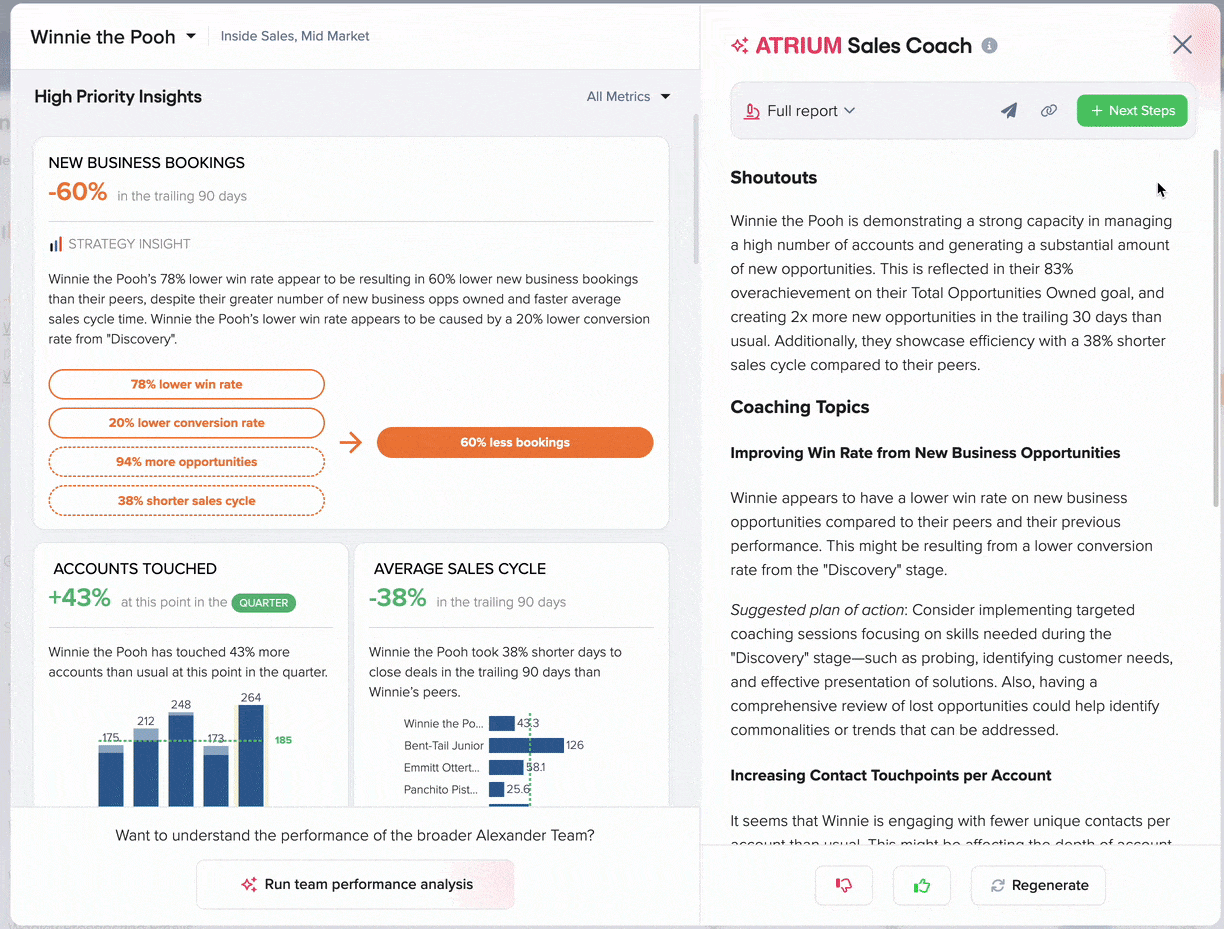 Custom data-backed enablement plan for a rep.
Rep Facing Next Steps: Reps "owning their business" and taking control of their own performance is a holy grail of modern sales organizations and a key tenet of Sales Coach. This includes Next Steps!
Just as managers and leaders can generate "High Five" and "Coaching" communications focused on a given rep's performance (and teams), reps can generate "Pep Talks" and "Coaching Chats" that focus on the same topics - but with Sales Coach talking directly to the rep.
This amounts to a helpful "assistant manager / enablement coach" that a rep can go to in a pinch for the times when they're not with their manager - get a quick attaboy or coaching on specific topics.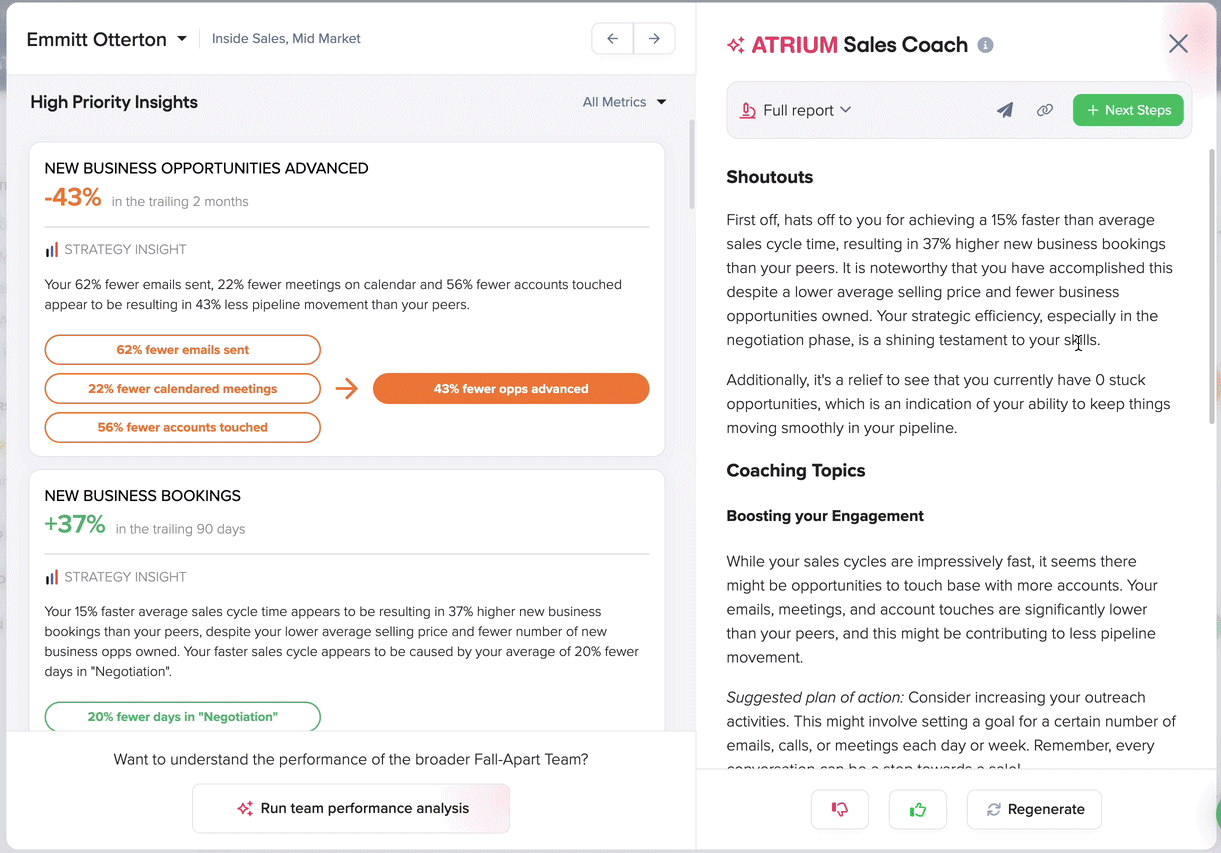 Rep-facing "Coaching Chat"
Gartner Cool Vendor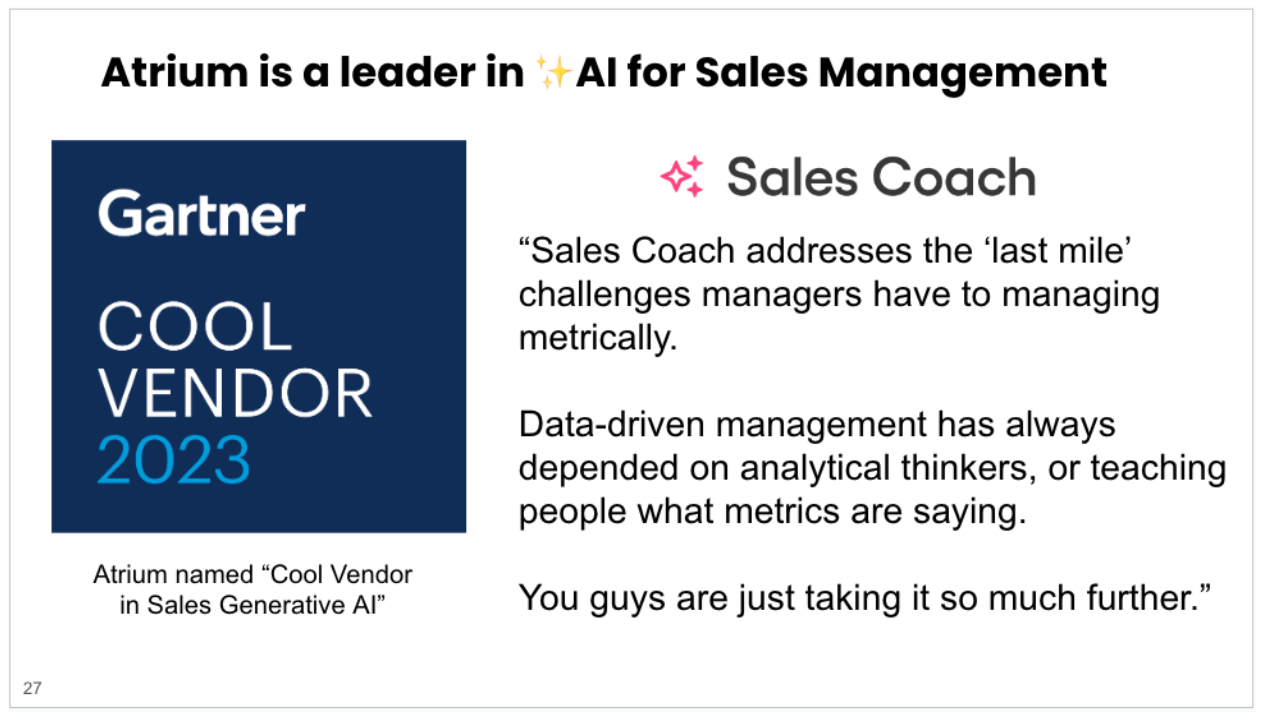 And while customer reception on all of this has been amazing, one piece of feedback we're particularly excited about is being named by Gartner as a "Cool Vendor" in Generative AI for Sales.

In particular, we were the only solution selected that is focused on management.

Obviously we think that great management - that is, measuring, managing, and improving the performance of reps, teams, and more - is absolutely critical in modern sales organization, and are excited to be on the forefront of AI for Sales Management!
Do you want to improve your sales team's execution through AI-accelerated sales manager? Request a demo of Atrium or sign up for an account.
+++++++++++++++++++++++++++++++++++++++++++++
TL;DR: Atrium is excited to announce the first AI for Sales Management, "Sales Coach." Sign up here to try it yourself. Or request a demo.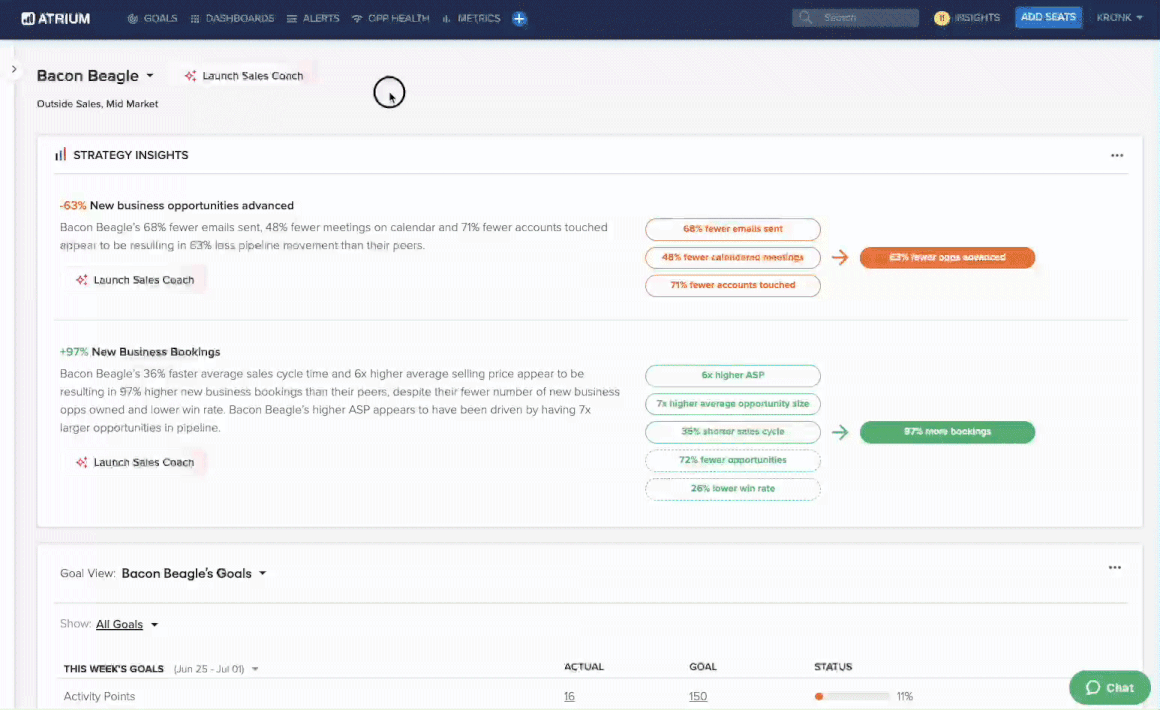 Sales Coach uses Large Language Model AI to provide contextual, practical metrics synthesis and concrete coaching next steps to managers, leaders, and reps.
The result is a revolution in the ability of managers, leaders, and operations to measure, manage, and improve the performance of their teams by better comprehending and acting on data-driven insights - at the metric, rep, and team level.
The Problem with Dashboards & Sales Management
To date walls of dashboards have been the best case scenario for managers, leaders, and reps to understand and improve their performance.
The insurmountable problem with this approach is that math is hard.
The skilled analyst or business intelligence architect may be able to turn bars, lines, and pies into actionable meaning - but that's a rare - and exhausting - skill. The grand majority of sales managers, leaders, and reps didn't get into sales to decipher squiggly lines.
Here's a quick intuition pump. What's going on in this single Salesforce dashboard chart?
Well, some reps have more opps than others. Some have very few. The stages those opps are in seem to vary from one rep to another. What's concerning here? Who should I be coaching and how?
It's pretty easy to see how hard this can be with just a single dashboard tile.
But now…multiply that by two dozen tiles!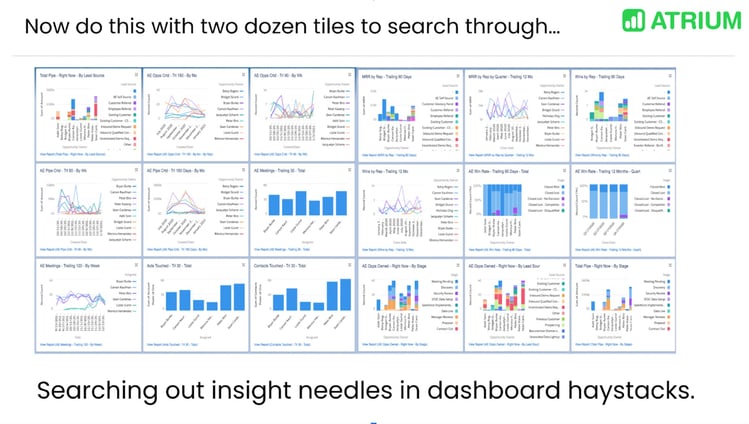 Talk about finding needles in a haystack!
It's no wonder that the grand majority of managers reject managing by metric, and end up spending their time in deals or being a "super-rep" on calls with their reps - to date, the tooling and training has been unsuited to helping managers be data driven.
Atrium 1.0 Helped This Problem
Starting in 2019, Atrium's statistical alerting, goal tracking, and strategy insight functionalities helped managers be more aware of when there were issues with their reps or their teams by alerting managers to movements in metrics that might be of concern.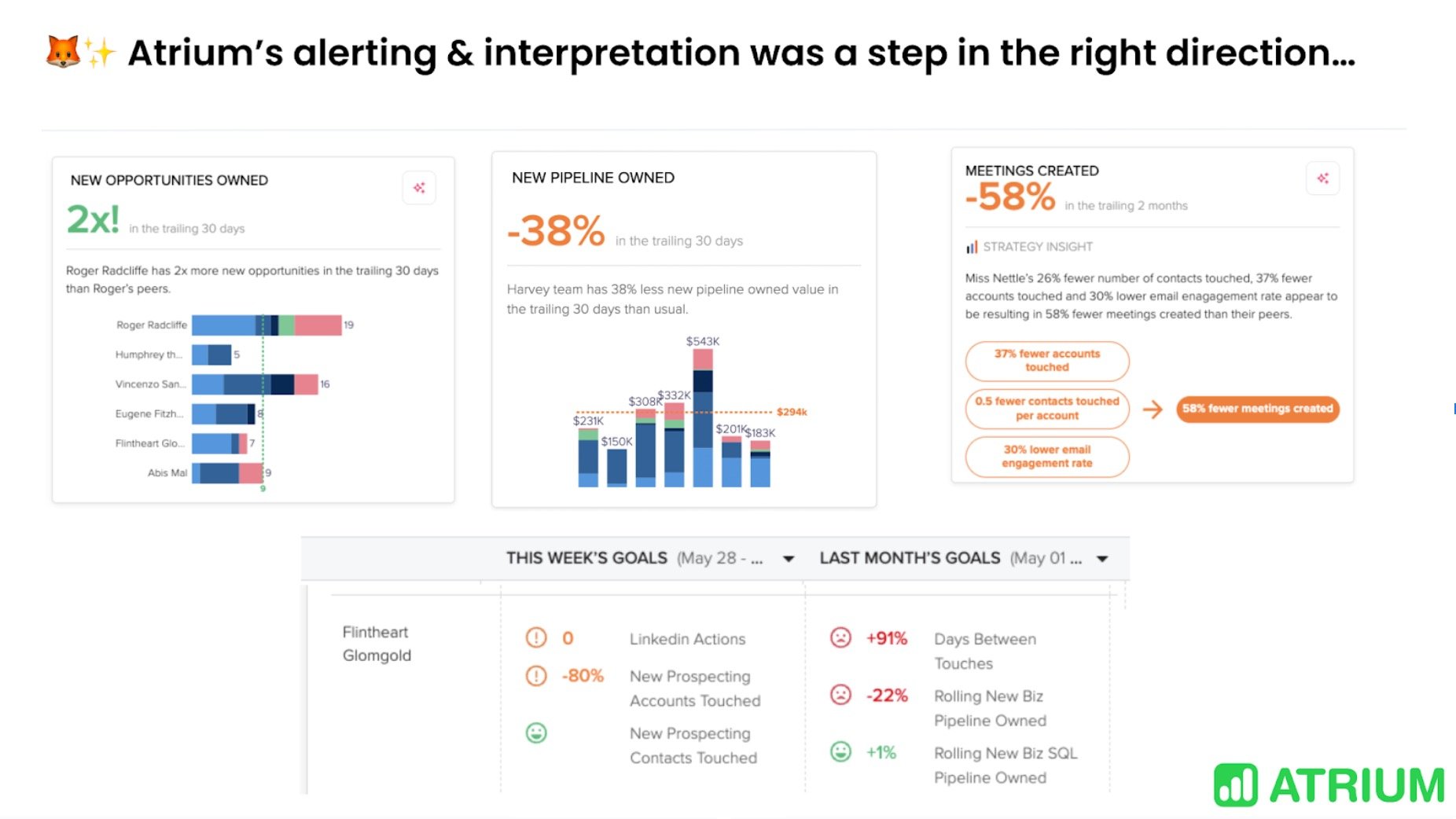 This was a massive improvement over the status quo of trying to interpret impenetrable walls of charts.
But this still left up to the manager how to piece together what these issues meant and what to do about them.
Atrium 2.0: AI-Driven Synthesis & Recommended Actions for Sales Management

With the advent of Large Language Models - which most people are familiar with through the likes of ChatGPT, Google Bard, Anthropic's Claude and others - we can now leverage the power of AI to help distill & synthesize large amounts of data, before generating suggestions on what to do with the derived insights.
Atrium's Sales Coach does exactly this - taking Atrium insights and alerting, wrapping them in proprietary prompting, and then feeding them to state of the art Large Language Models.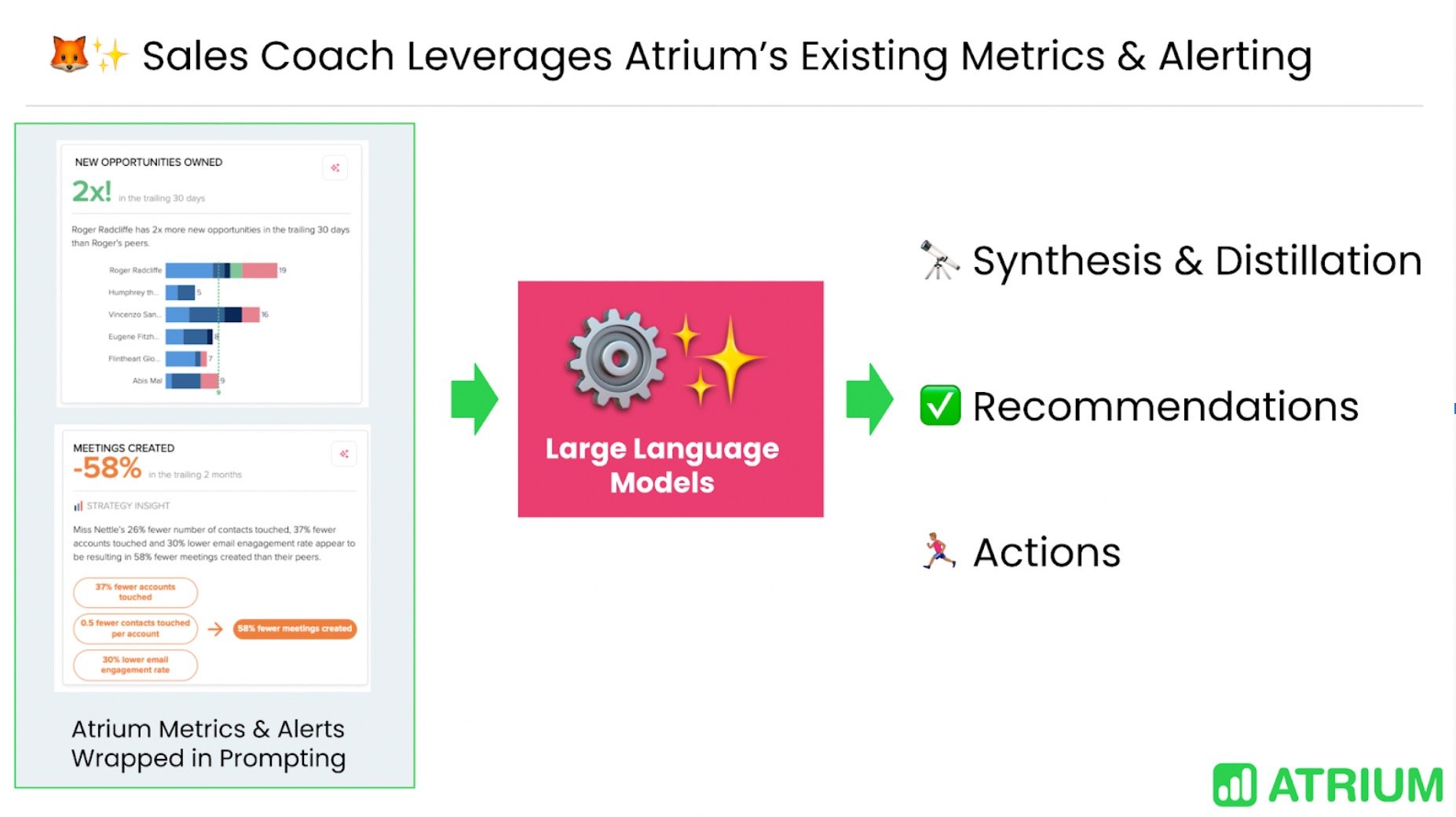 The results are stunning, providing managers, reps, and leaders with instant AI-driven synthesis and recommended actions to improve rep performance.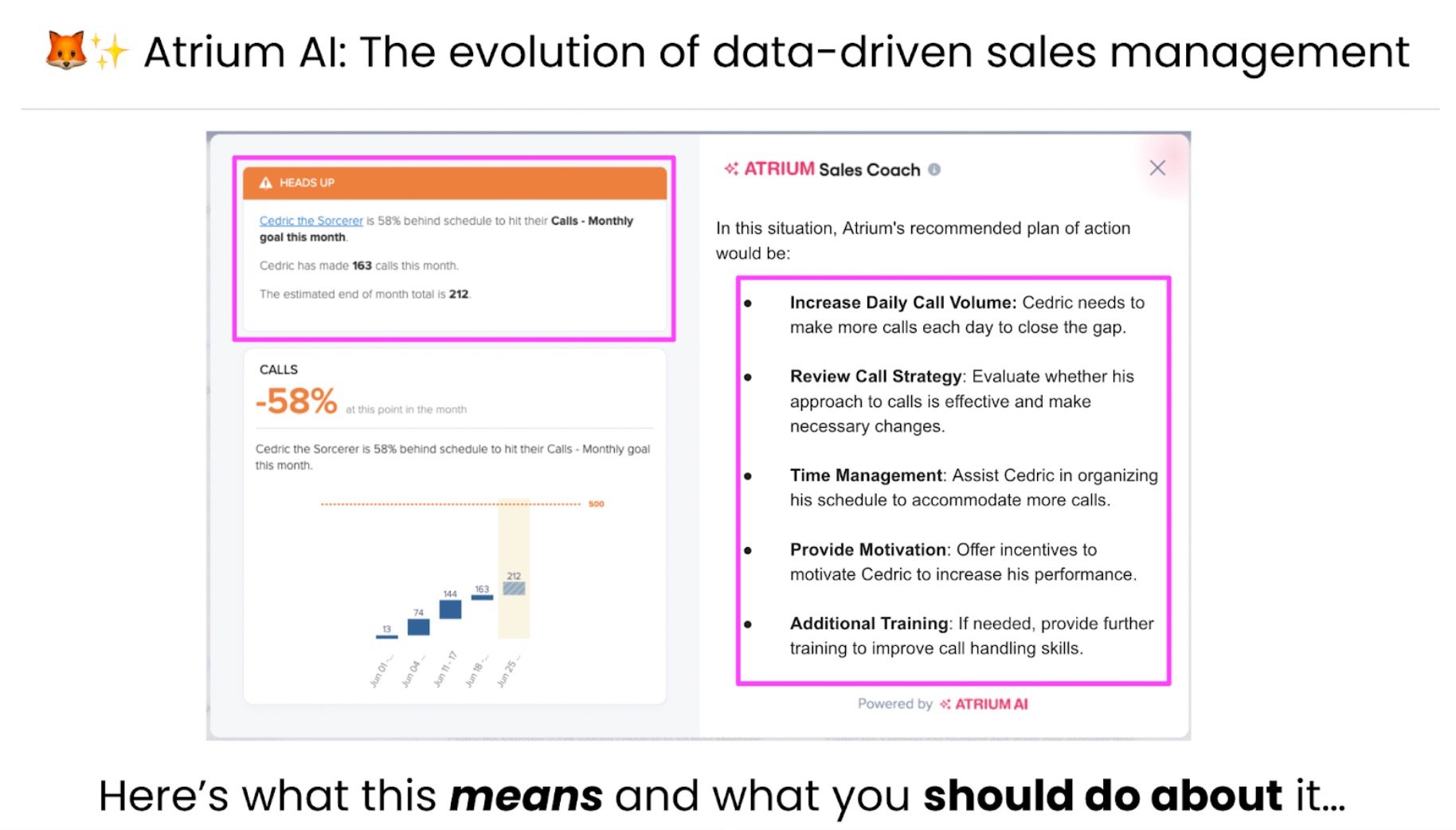 It's like having a revenue operations analyst and sales enablement helper for every manager, leader, and rep in your sales organization.
Sales Coach helps out across a number of Atrium's existing features.
Single Metrics: Sales Coach interpretation and recommendations for single metrics, like Atrium's single metric alerts: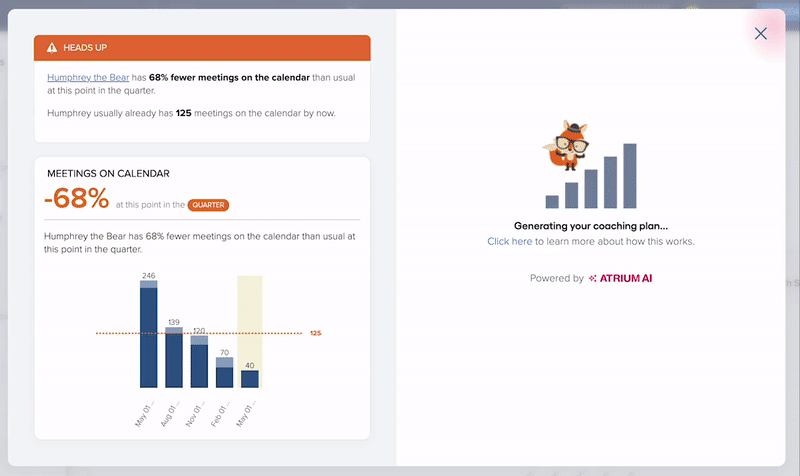 Strategy Insights: Deeper synthesis and associated suggestions for combinations of metrics, as with Atrium's Strategy Insights: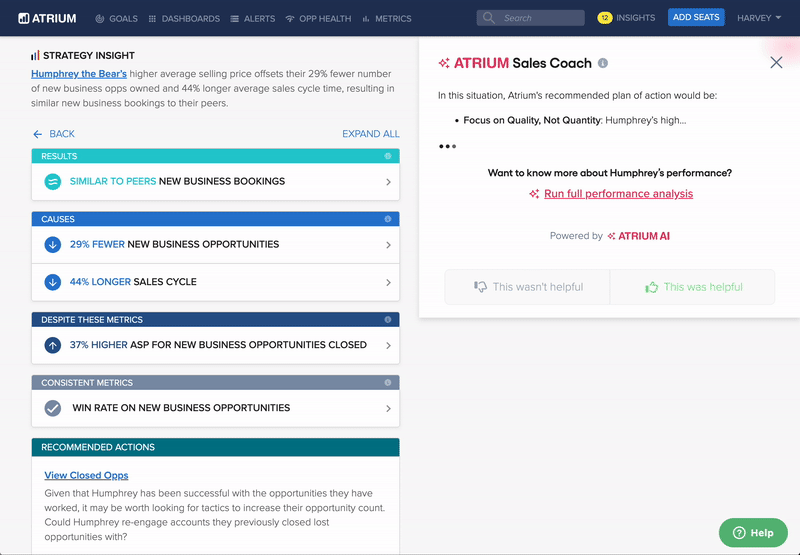 What's going on with this rep? And what should I do about it? All the way to answering the thorniest questions sales managers and leaders have, like "What's going on with this rep, and what should I do about it?"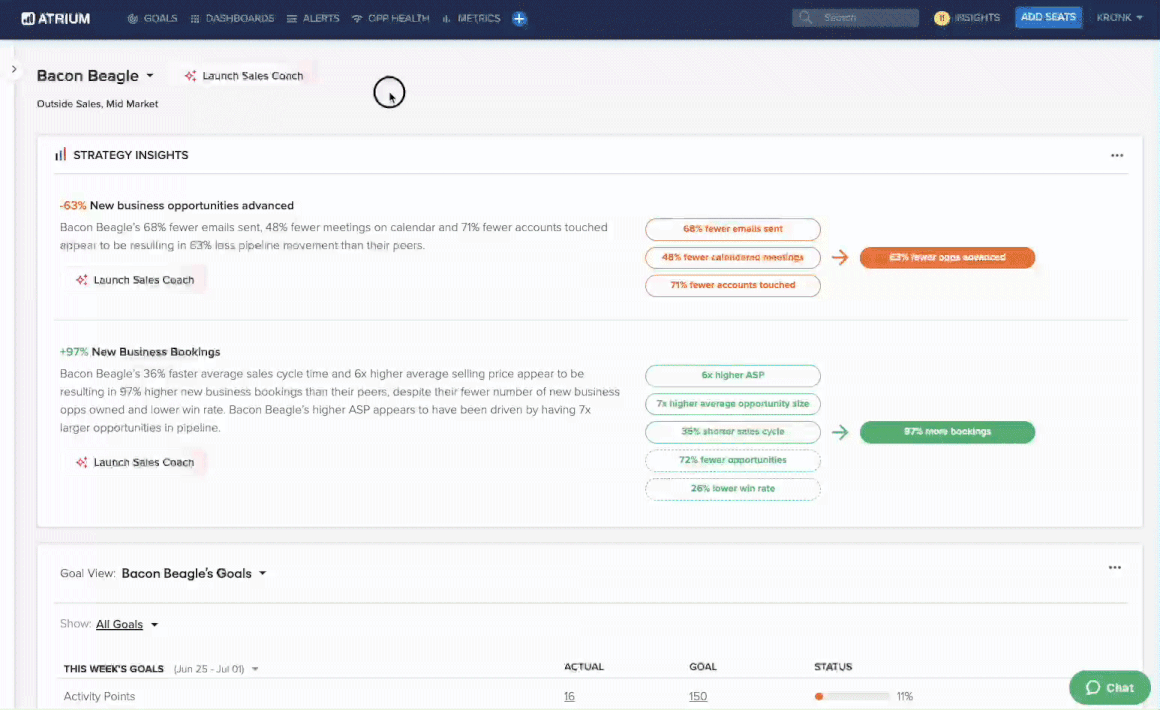 What's going on with this team? And what should I do about it? And what's happening with my team, what are the most important themes to pay attention to, and what should I do about it?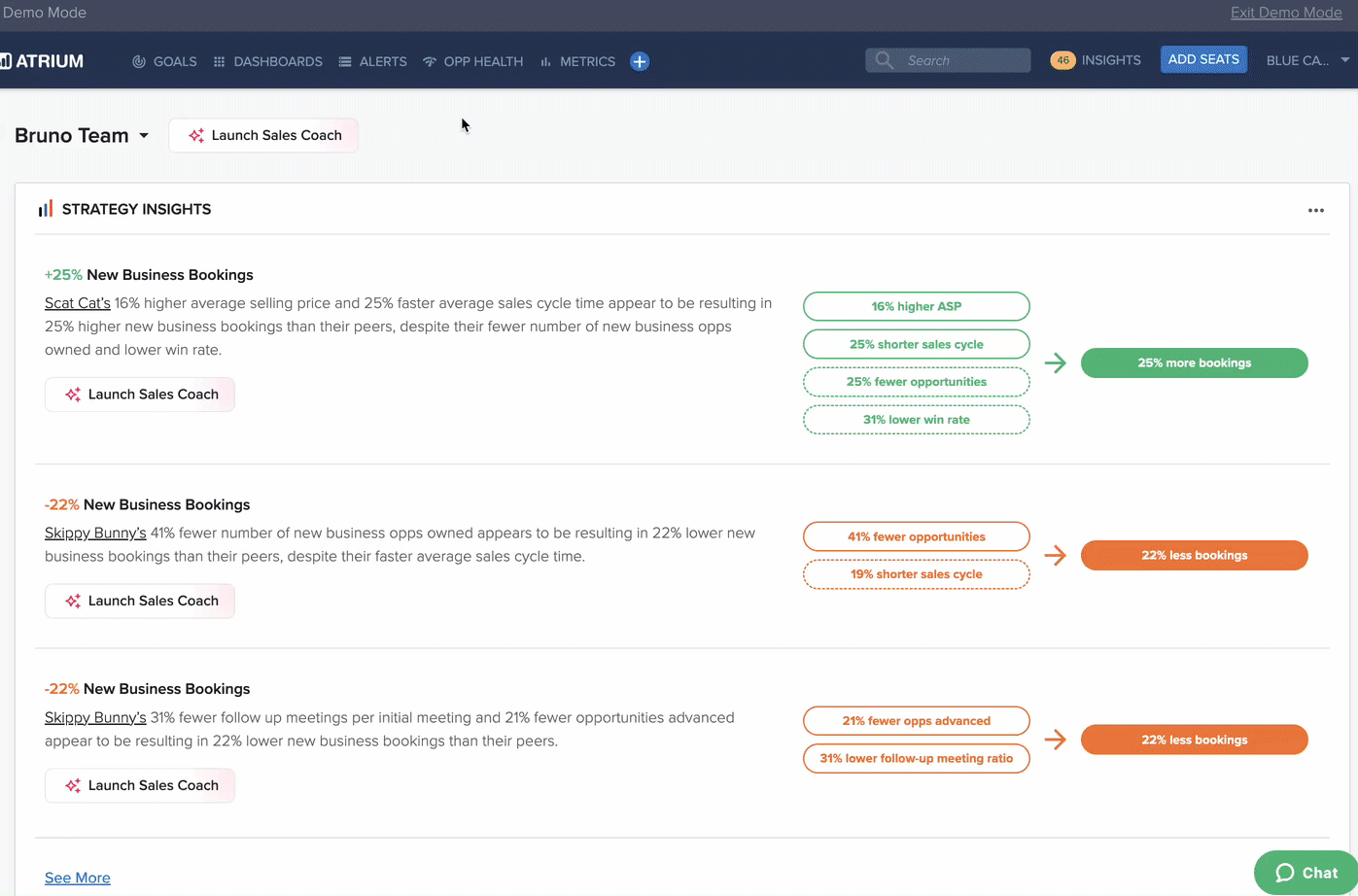 By focusing managers and leaders on what's happening and what to do about it, Sales Coach not only helps manager coach and lead more effectively, but helps train those very managers and leaders as to what various metrical insights mean, and what to do about them.
So not only do managers immediately start managing more effectively with Sales Coach, but they become more effective managers over time.
Rep Facing Coaching: In addition to assisting managers and leaders, Sales Coach can talk directly to reps, as well, providing helpful "assistant manager" guidance for all the times that AEs and SDRs aren't with their managers.
This helps reps "own their business" via self-management, helping them get better on a continuous basis.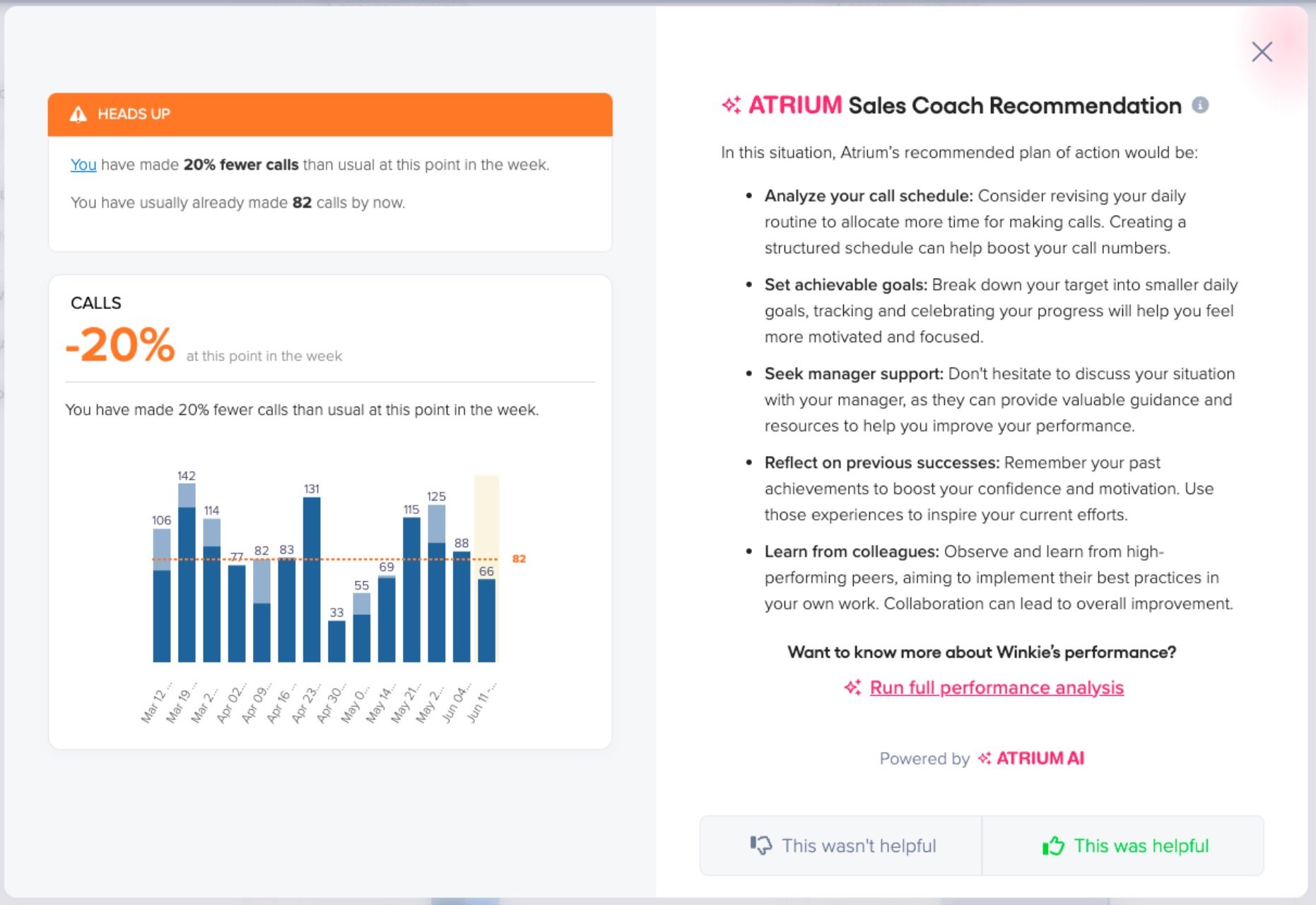 A New Era of AI-Driven Sales Management Excellence: By removing the need to "dashboard dive", Atrium's Sales Coach helps managers and leaders do what they do best - coach their reps, hold them accountable, and improve performance.
We're extremely excited about how far Sales Coach has come to date, and where it's going.
We welcome you to sign up here to try it yourself. Or request a demo.