A sales manager's successful instrumentation of their team's goals is often the biggest driver in a team's ability to hit quota. It's imperative that managers are able to effectively set and track goals for their team around both outputs and inputs. To help you do just that is Atrium's Sales Metric Goal Management capability—the modern way to manage sales teams by goal.
With this feature, teams can set weekly, monthly, and quarterly goals on pre-defined leading and lagging indicators, or custom goals related to their org's specific initiatives. Atrium then tracks progress to and completion of those goals, with proactive updates to managers and leaders via email and Slack.
In addition to existing goal functionality that Atrium's hundreds of customers have come to love and depend on, Atrium has extended goal management in a few key areas.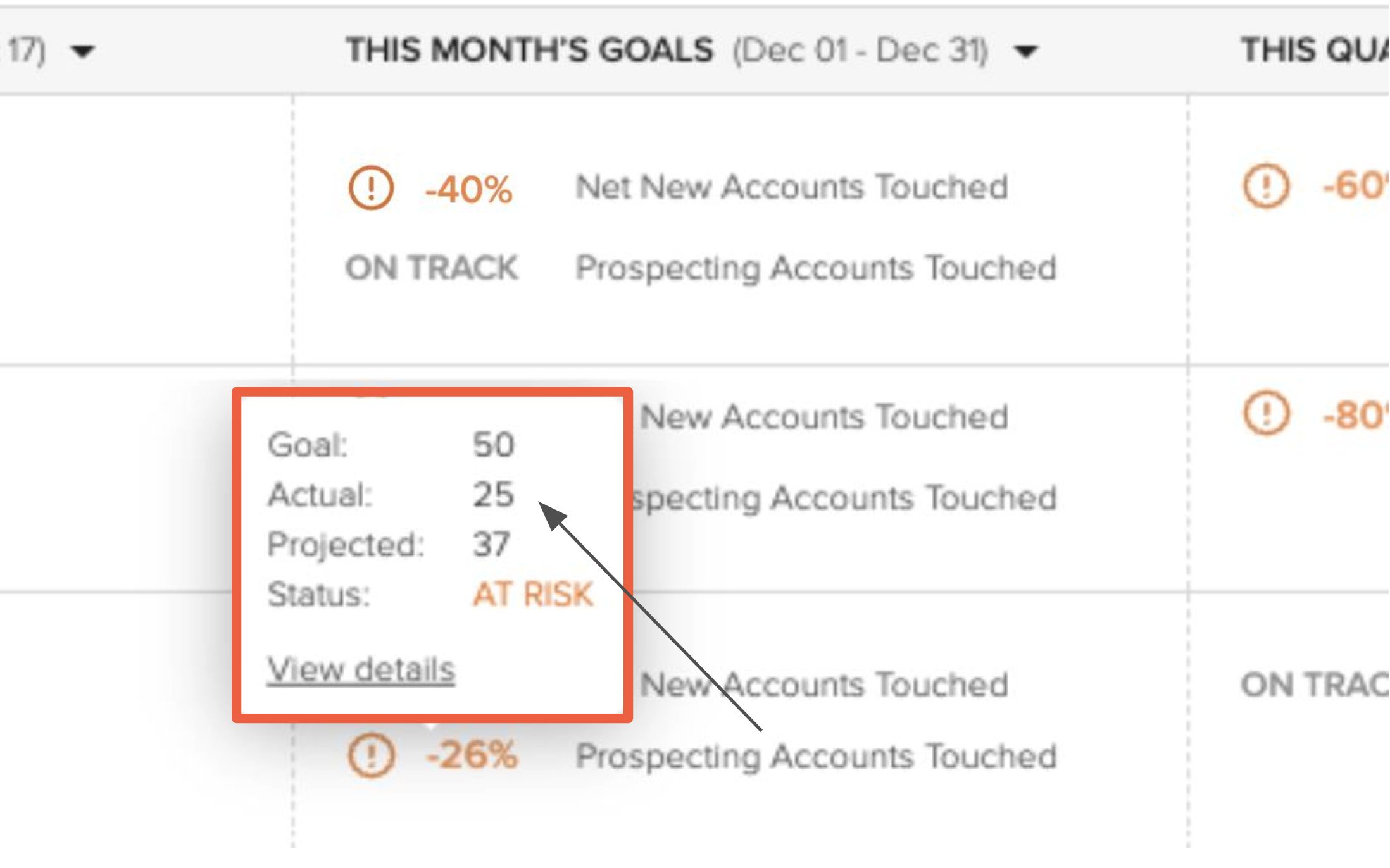 Initiative-Specific Goal Views:
Atrium's Sales Metric Goal Management now lets users create custom sets of goals focused on key sales team initiatives - like "AE Prospecting", "Pipeline Hygiene", "SDR Activity", "Manager-Rep 1:1s," and more.
For example, if your CRO needs your AE team to be more efficient and source more of their own opportunities for the quarter, you can set up a custom goal view that tracks AE prospecting efforts for each week, each month, and then an overall quarterly opportunities sourced goal.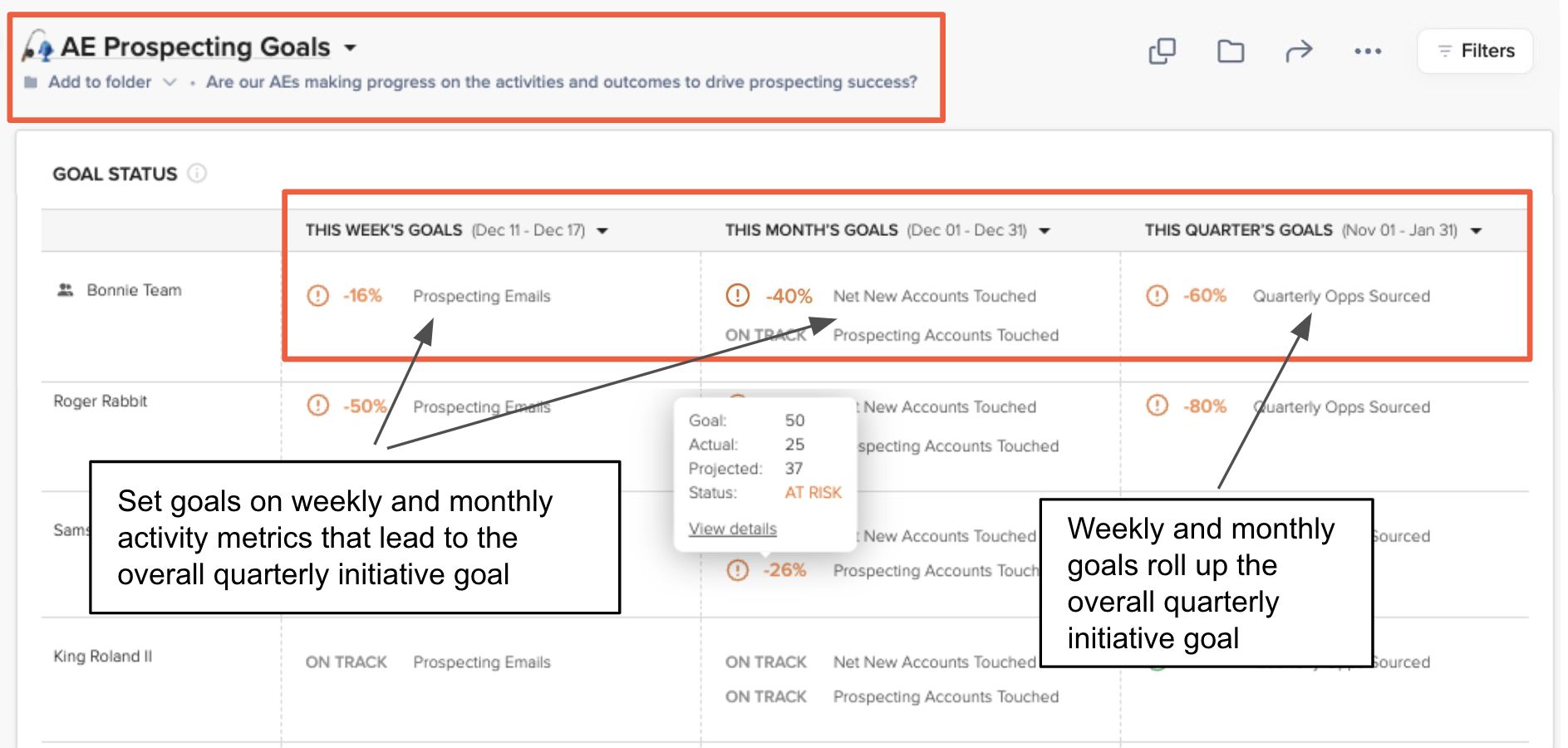 Proactive Goal Tracking
From there, Atrium's goal tracking lets you easily see how your reps are pacing towards those goals. It does the math for you!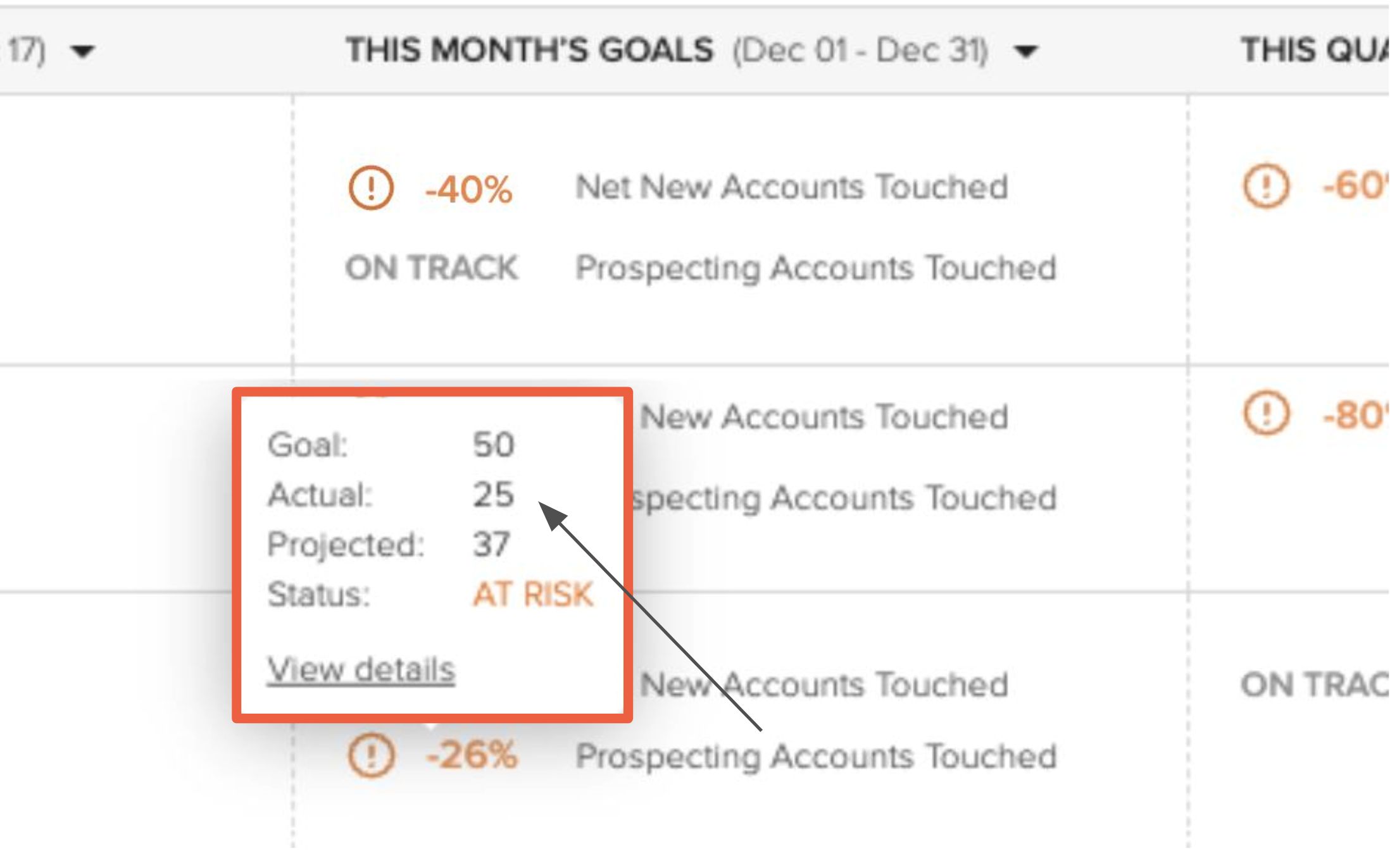 You can also click into the associated metric card for more details around how this rep or team is pacing towards their goal, and the projection for where they will likely land.

This view will quickly show you what they've completed at that point in the month, plus the projected end-of-month total based on their progress thus far.

In this example, you can see the current progress this rep has made around their Prospecting Accounts Touched goal, as well as their projected end result for the month. Atrium also provides an alert that the rep is 26% behind pace to hit their monthly goal, and recommends next steps for the manager.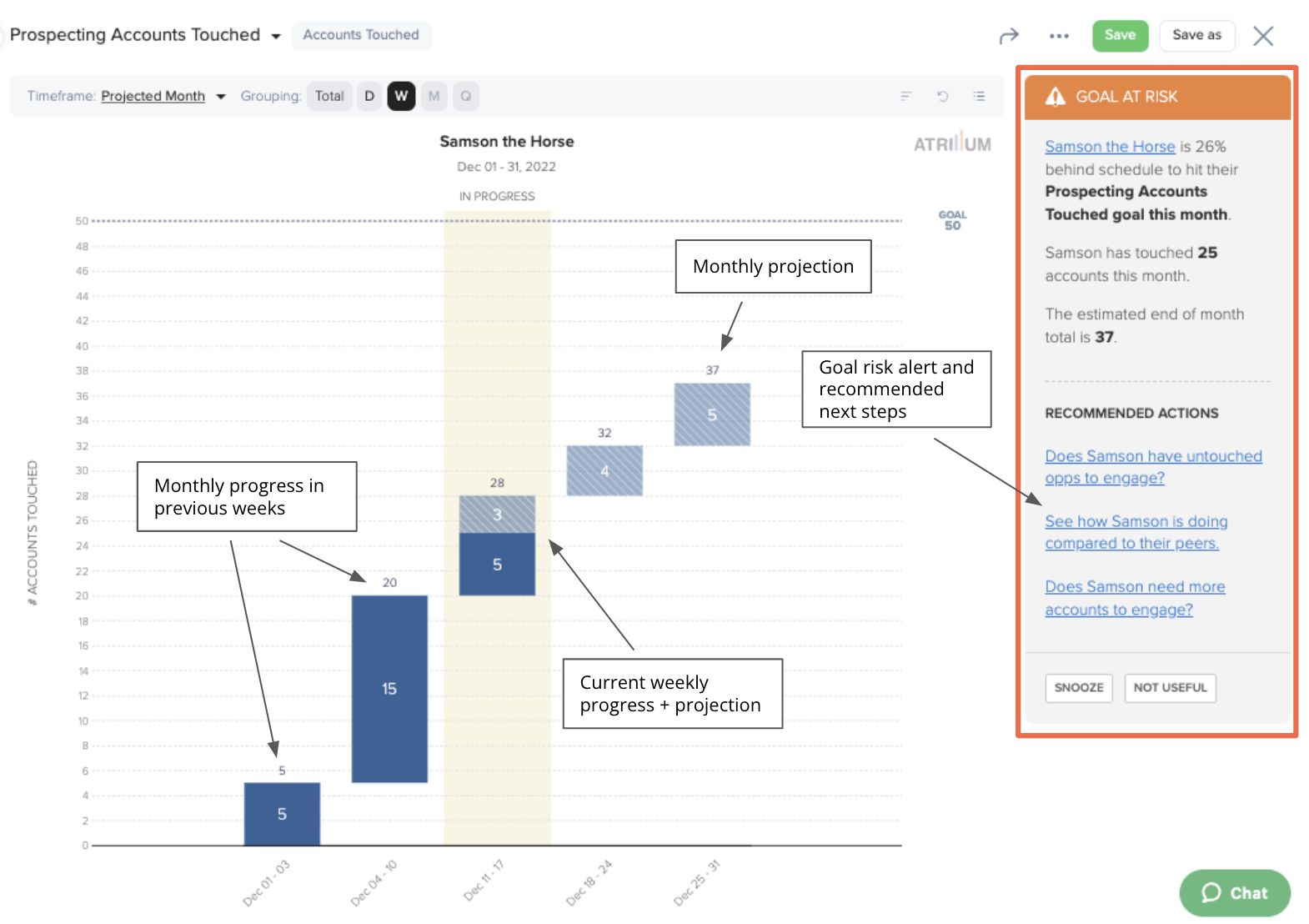 Goal Progress, In Your Inbox (And Slack!)
But what's the point of setting goals if you're not regularly checking in on their progress?

Atrium does the checking in for you, and proactively sends you updates via email and Slack so you know exactly how your team is pacing towards their goals.
Atrium sends in-progress updates for the week, month, and quarter, as well as completion reports at the end of each time period, making it incredibly easy to see who's crushing it, who is on track, or who may need some coaching.
This email, sent Monday mornings, shows the team's performance towards last week's weekly goals.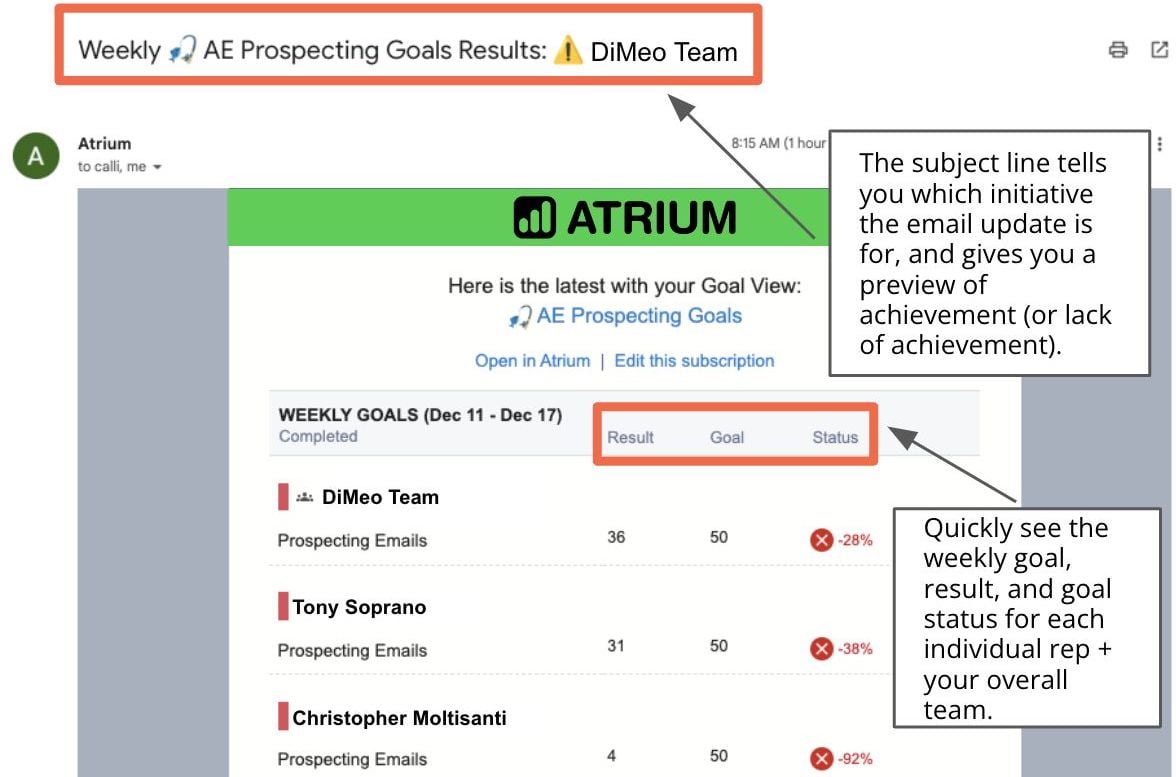 You'll also receive regular updates around how your team is trending towards their in-progress goals, as shown in this monthly progress email.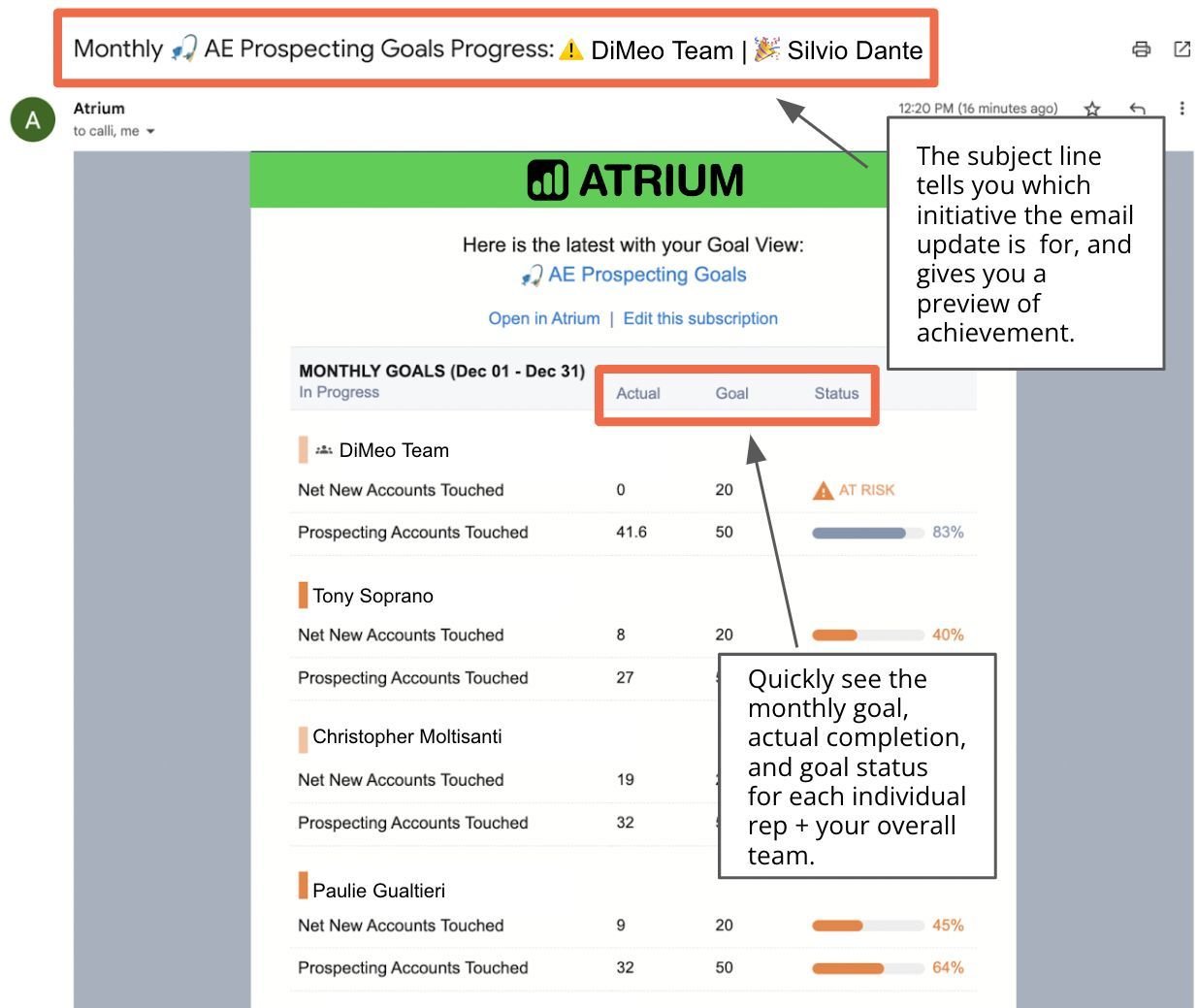 This Slack alert shows a weekly completion report for the previous week's goals.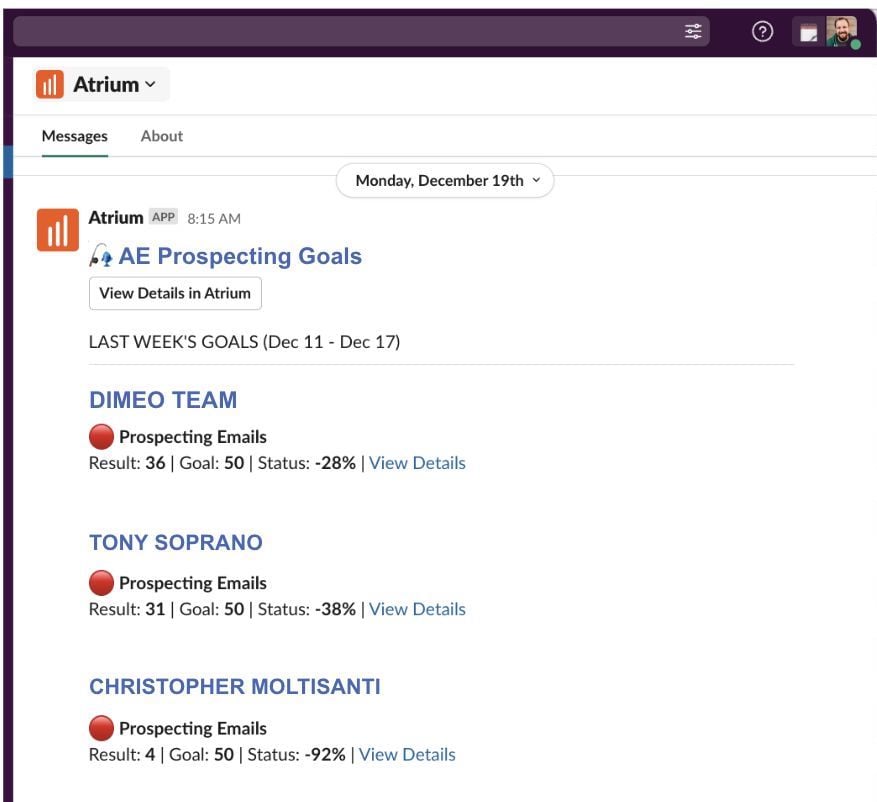 That's world-class sales goal management if you ask me!

Modern sales managers and leaders must be managing their teams with goals in order to drive efficiency and stay focused on the skills, initiatives, and upstream metrics that will allow them to hit quota quarter after quarter.

What's Next?
For more information on goal-setting for your sales team, check out this masterclass with Atrium's Co-Founder and CRO, Pete Kazanjy, where he talks through how to set AE & SDR goals that don't suck. You can find the deck here!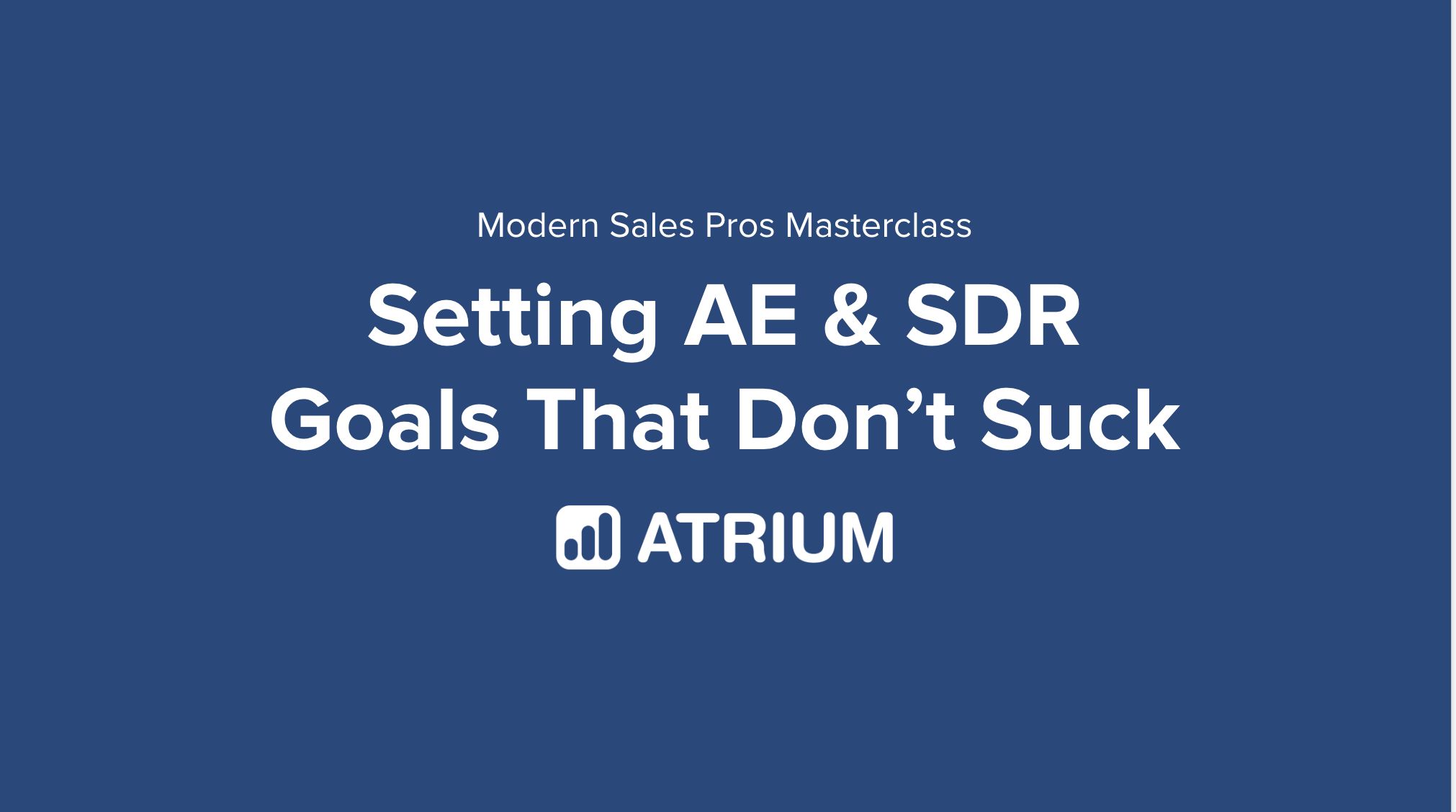 If you're not an Atrium customer but would like to learn more about what Sales Metric Goal Management can do for your team, request a demo, or create an Atrium account in less than 2 minutes.
Atrium customers, If you'd like to set up goals around a particular focus area but are unsure of where to start, please reach out to your Atrium Customer Success Associate. They would love to help you get started!