Howdy, y'all!
Our product team shipped some incredible features in FY22 in order to help you crush as a data-driven sales pro.
Here are our favorites!
The ability to create and save custom metric cards (plus, new UI updates to Saved Cards!)

Ramping Strategy Insights that allow managers to closely instrument and monitor new hire ramp

Atrium's Sales Metric Goal Management, which helps managers easily set and track goals on any of Atrium's leading and lagging indicator metrics
Saved Cards:

Easily customize, save, and distribute unique metric cards
Unlike BI tools that require a certification (and half the afternoon) to build what you need, Atrium makes it super easy to quickly flip to the exact data you need to lead your team. You're able to go into any metric card within Atrium and easily customize by changing the timeframe, team members, and filter settings.

This quarter, we expanded this feature to allow you to play around with any metric card, and then save that card by naming it and adding it to a new or existing folder. It's then super easy to revisit those saved cards as often as you'd like to check in on specific teams, reps, metrics, and more.

For example, if your CRO wants your org to focus on AE prospecting for the quarter, you can create a Saved Card to track that initiative. You'd navigate to the Opportunities Created metric, select the current quarter as the timeframe, filter the opportunity source to "AE Self-Source", and even split the graph by stage to see how your AE-sourced opps are progressing.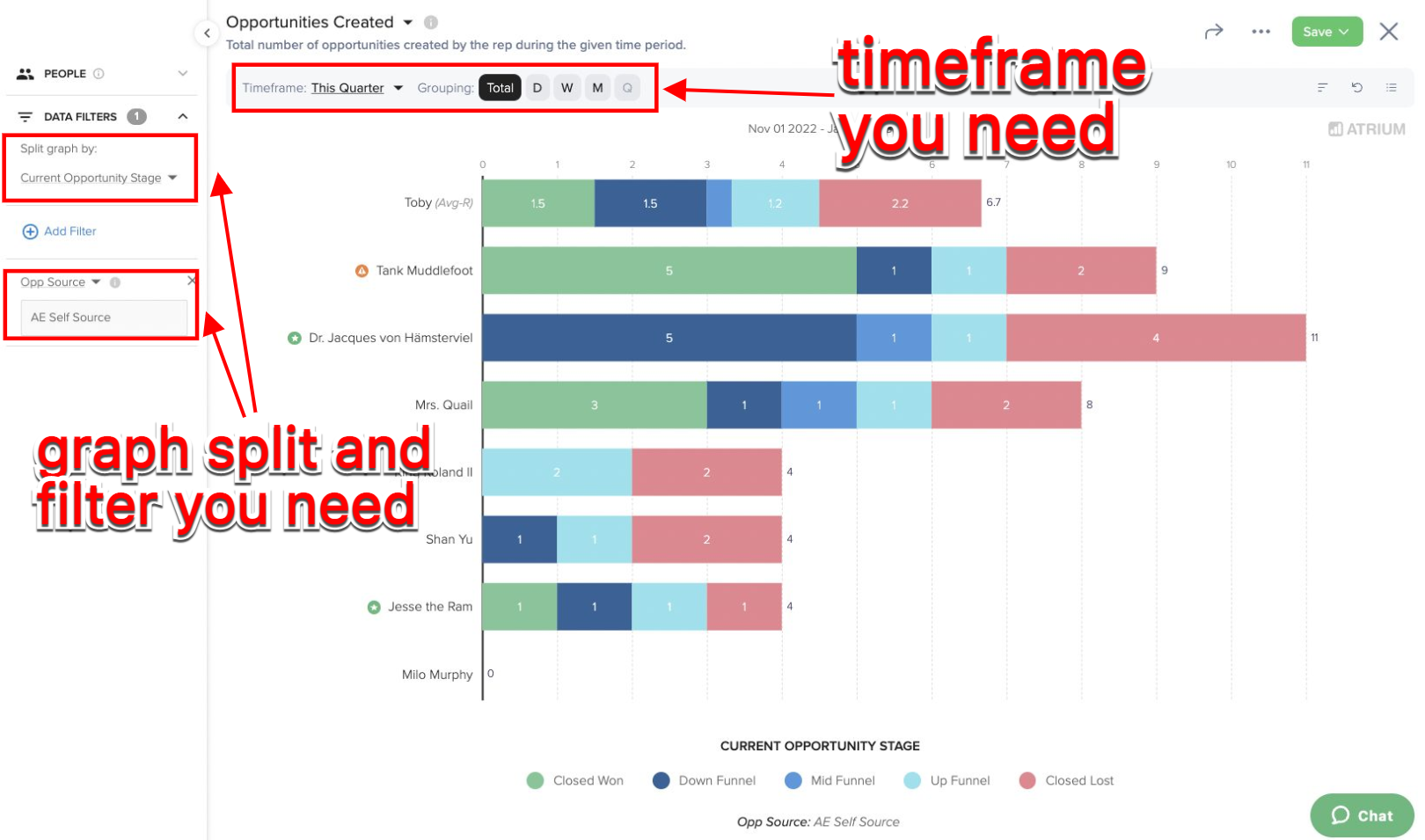 Then, save that card, name it, and add it to any folder you'd like. Come back to this card on a regular basis to keep your eye on your reps' prospecting efforts, and regularly distribute that card to your reps via email or slack so that they can easily see if they are on track to meet their goal.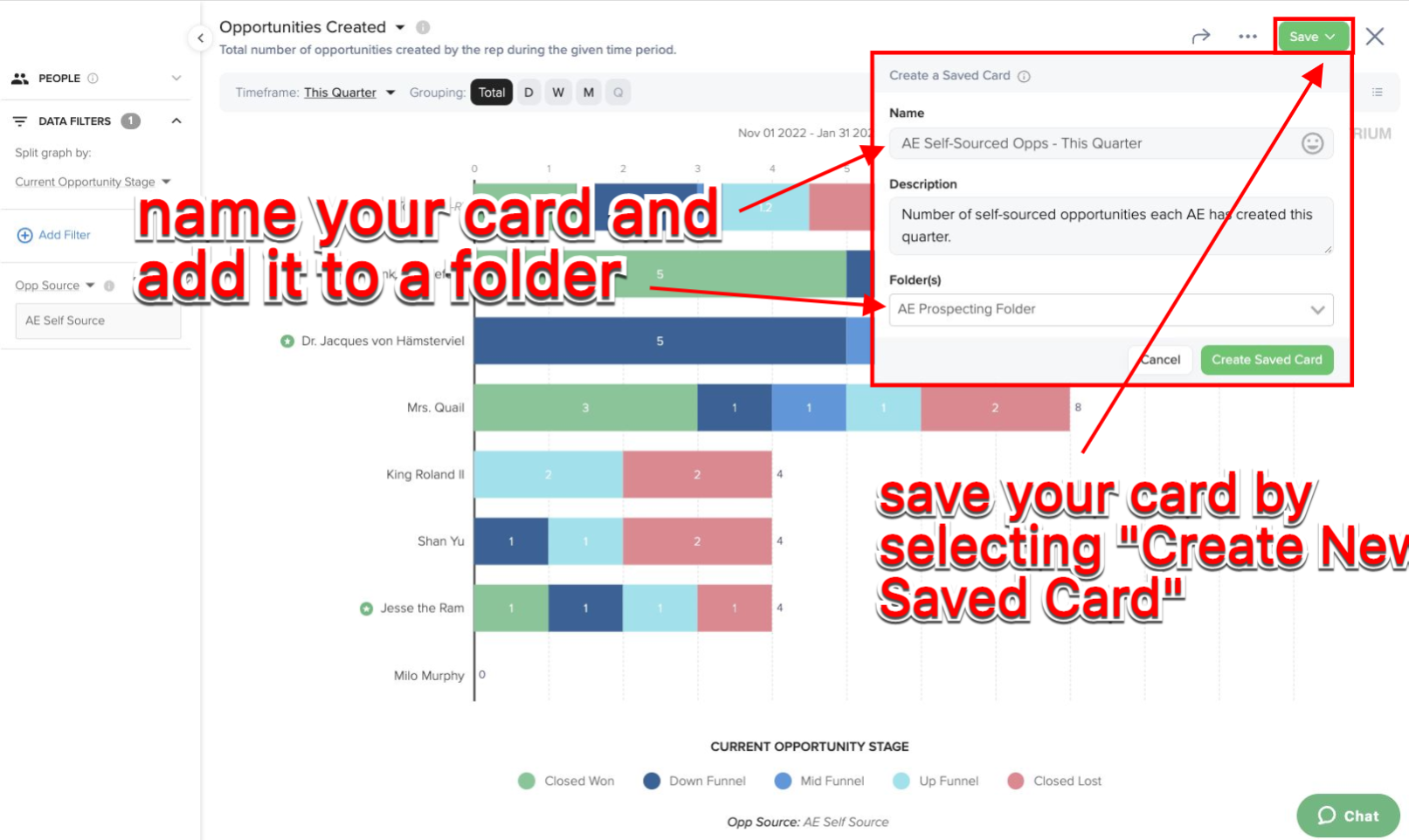 Saved Cards give you the ability to quickly refer back to whatever goals, issues, or initiatives are necessary for your team to perform their very best. You can simply navigate to the folder in which you saved the card, or you can set up distributions via email or Slack. You can choose how often you'd like the card to be sent, which channels you want to send it through, and the people or teams you want to receive the view.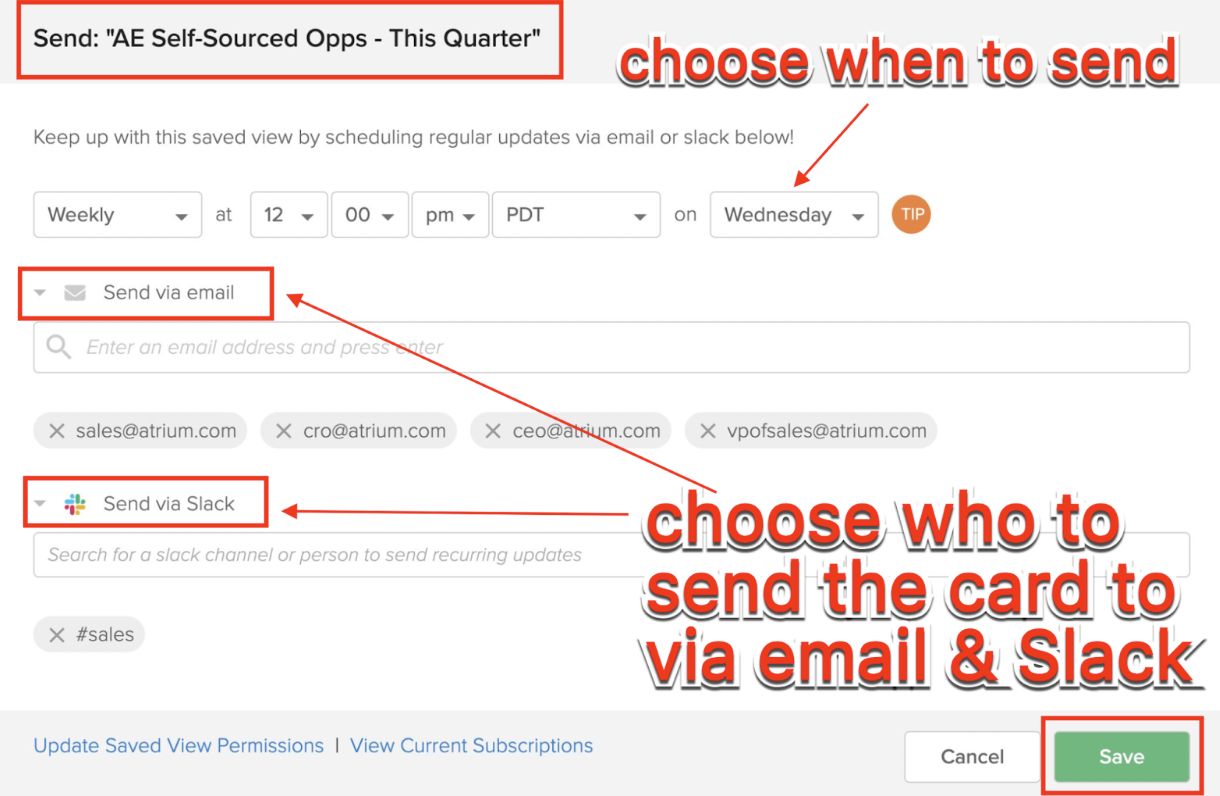 Unified Save Button: New Copy to Dashboard and Save button design will make your life easier!
The team also tweaked the functionality and design of the "Save" button on metric cards to make it easier for you to edit and manage your Saved Cards and Dashboard Tiles! As mentioned above, you can customize any metric card and save that card for future use.

You will now see one single "Save" button on the top right corner of a metric card with a carrot dropdown menu. The dropdown options will dynamically change, depending on the context you are in—such as starting from a default card, existing Saved Card, or Dashboard Tile.

For example, if you navigate to an existing saved card and make changes, when you click on the "Save" button, you will see these options:
Save changes to this Saved Card

Create new Saved Card

Copy to Dashboard (copy this card, with the changes you made, to an existing Dashboard)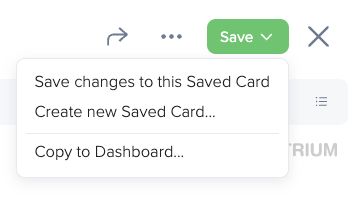 If you were to navigate to a Dashboard, select a Tile from the Dashboard, and make an edit, you would see these options.
Create new Tile (add a new Tile with the changes you made to the card on the current Dashboard)

Create new Tile on different Dashboard (add a new Tile with the changes you made to the card to an existing Dashboard or create a new Dashboard in that flow)

Create new Saved Card (save this Tile as a new Saved Card)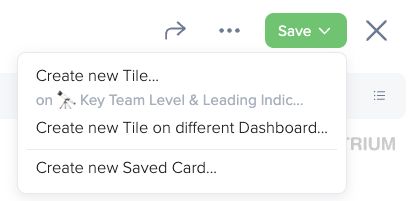 For more information on Saved Cards, visit this support page.
Ramping Strategy Insights:

Is that ramping rep at risk? Atrium's new Ramping Strategy Insights will tell you!
The ramping period of newly hired AEs and SDRs is an extremely critical time to measure and manage rep performance. As sales managers know, it can be the difference between success and failure of a new hire.
That's why it is paramount that sales managers are able to monitor the health of newly ramping AEs and SDRs, and intervene early when there are issues.
Atrium's newest feature will help you do just that–say hello to Ramping Strategy Insights! 🎉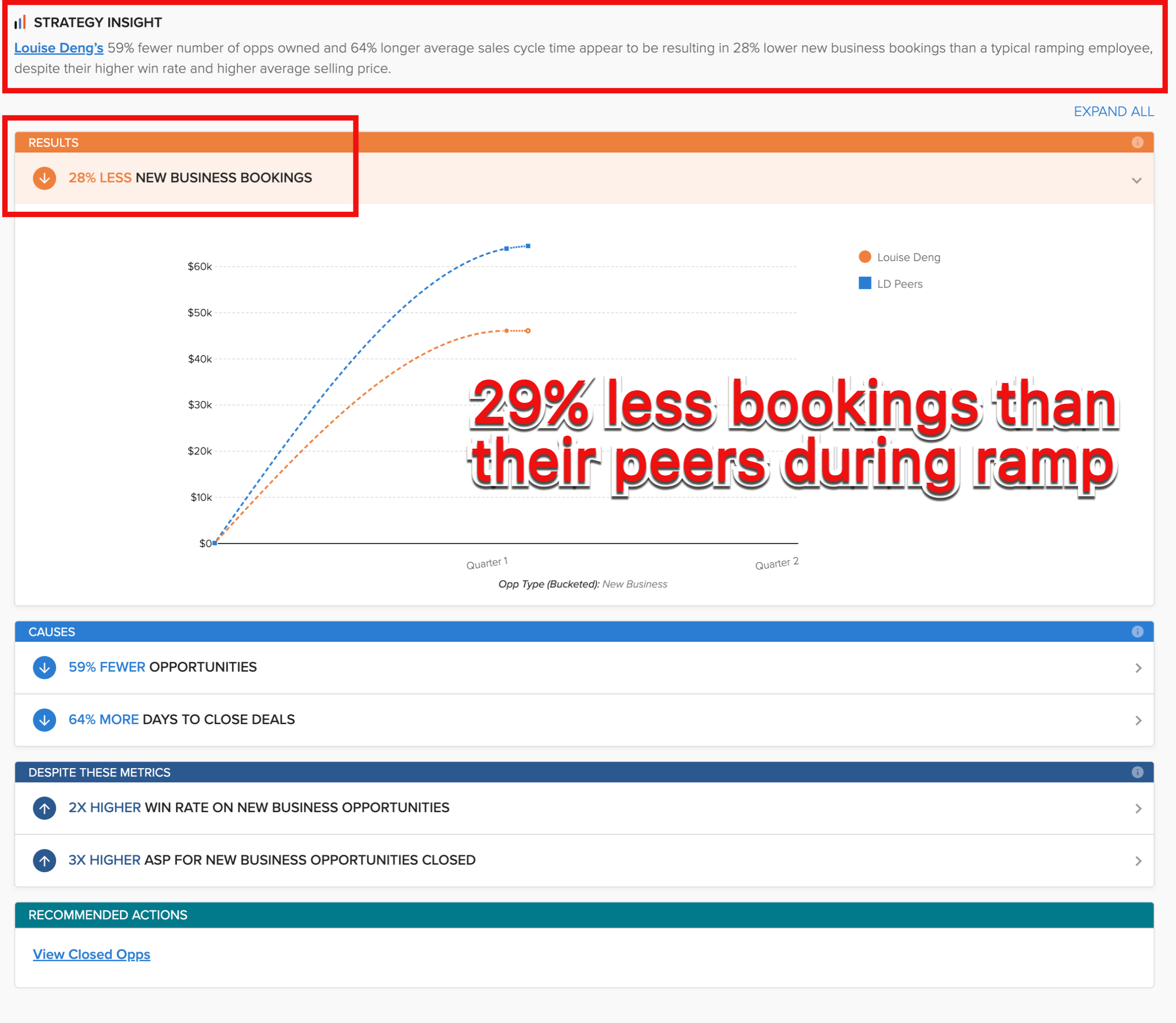 Atrium's Ramping Strategy Insights help managers monitor the health of rep ramps, and alert you when there's a problem to be addressed.
Similar to Atrium's normal Strategy Insights, Ramping Strategy Insights (Support Article) examine the potential root causes of lagging bookings (for AEs) or opportunity creation (for SDRs) during ramp. They do this by comparing the performance of your ramping reps with the historical ramping performance of their peers to give you early warning signs on how a rep is progressing.
In this case, the rep is getting fewer opportunities than their ramping peers, and is taking much longer to close deals.

By helping managers, leaders, and operations know as early as possible when there seems to be something amiss with a ramp, Atrium's Ramping Strategy Insights help managers intervene to fix issues in ramp before they become big problems.
To learn more, check out the Ramping Strategy Insight section of the Strategy Insight Support Article.
If you have recently hired reps, consider using the AE Ramping Health Playbook or SDR Ramping Health Playbook.
Goal View: Set goals on any metric, and Atrium will track progress for you
We're proud to announce Atrium's newly re-imagined Sales Metric Goal Management functionality - the modern way to manage sales teams by goal.
With Atrium's Goal Management functionality, teams can set weekly, monthly, and quarterly goals on pre-defined leading and lagging indicators. Atrium then tracks progress to and completion of those goals, with proactive updates to managers and leaders via email and Slack.
In addition to existing goal functionality that Atrium's hundreds of customers have come to love and depend on, Atrium has extended goal management in a few key areas.
Initiative-Centric Goal Views: Atrium's Sales Metric Goal Management now lets users create custom sets of goals focused on key sales team initiatives - like "AE Prospecting", "Pipeline Hygiene", "SDR Activity", "Manager-Rep 1:1s," and more.
For example, if your CRO needs your AE team to be more efficient and source more of their own opportunities for the quarter, you can set up a custom goal view that tracks AE prospecting efforts for each week, each month, and then an overall quarterly opportunities sourced goal.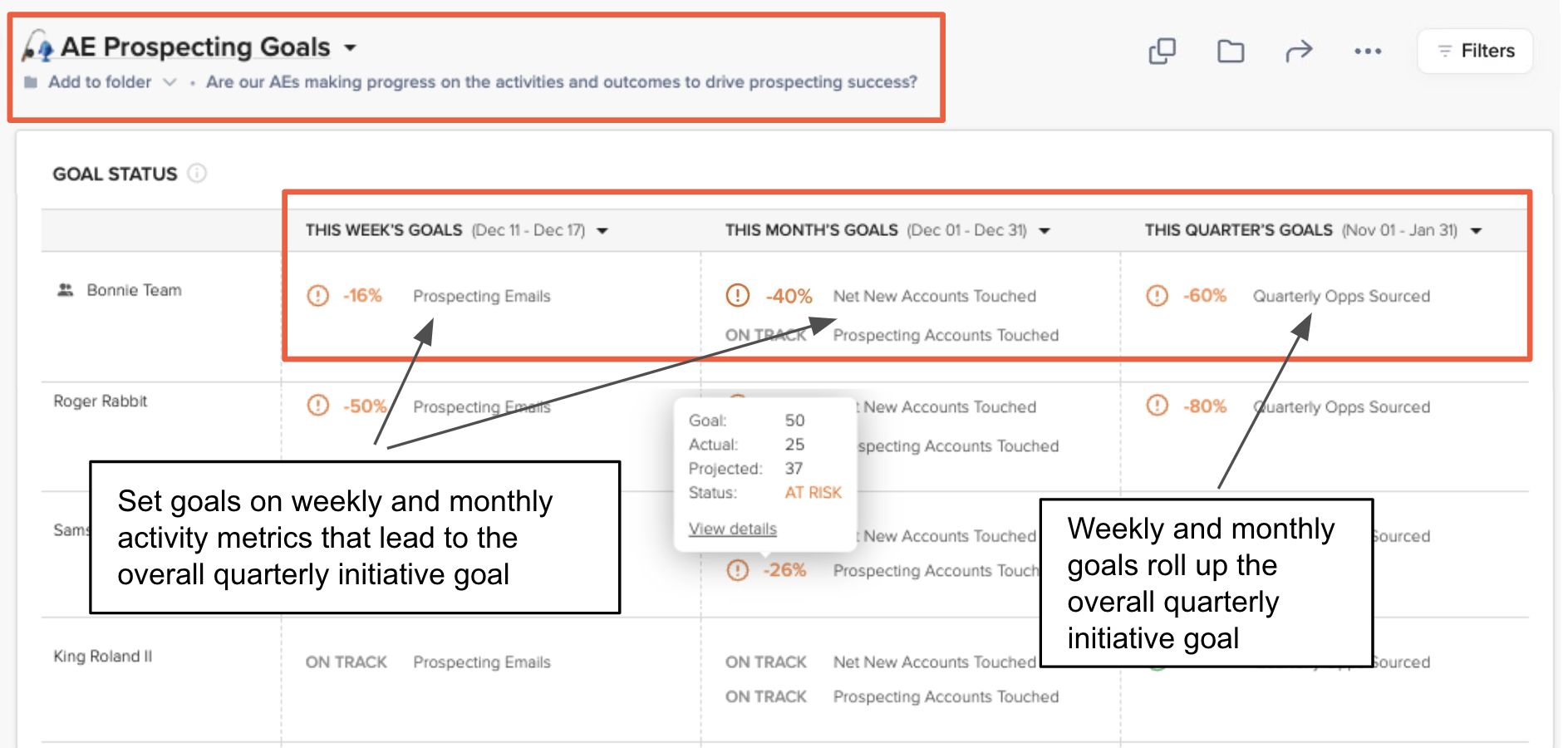 Proactive Goal Tracking: From there, Atrium's goal tracking lets you easily see how your reps are pacing towards those goals. It does the math for you!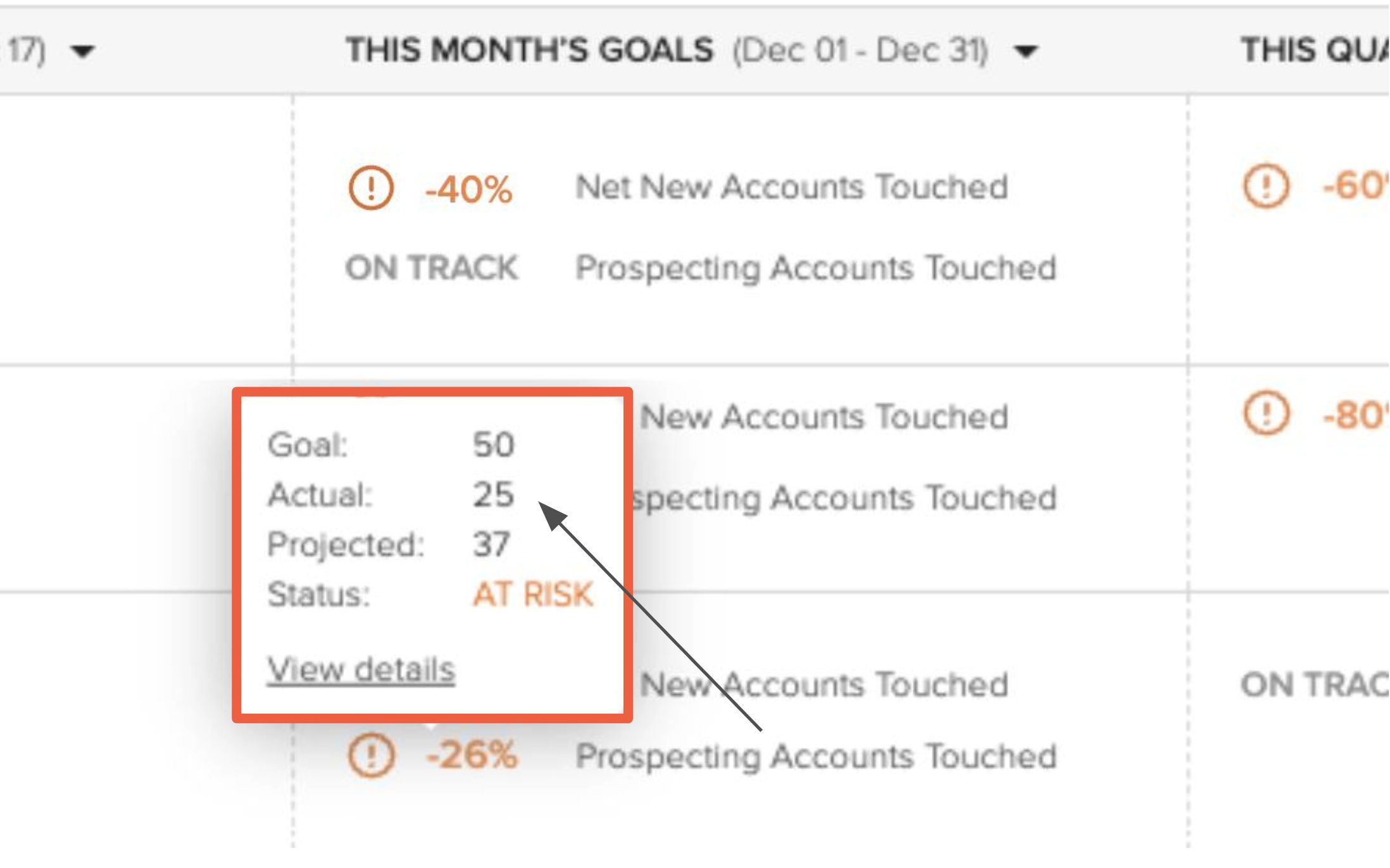 You can then click into the associated metric card for more details around how this rep or team is pacing towards their goal, and the projection for where they will likely land.
This view will quickly show you what they've completed at that point in the month, plus the projected end-of-month total based on their progress thus far.
In this example, you can see the current progress this rep has made around their Prospecting Accounts Touched goal, as well as their projected end result for the month. Atrium also provides an alert that the rep is 26% behind pace to hit their monthly goal, and recommends next steps for the manager.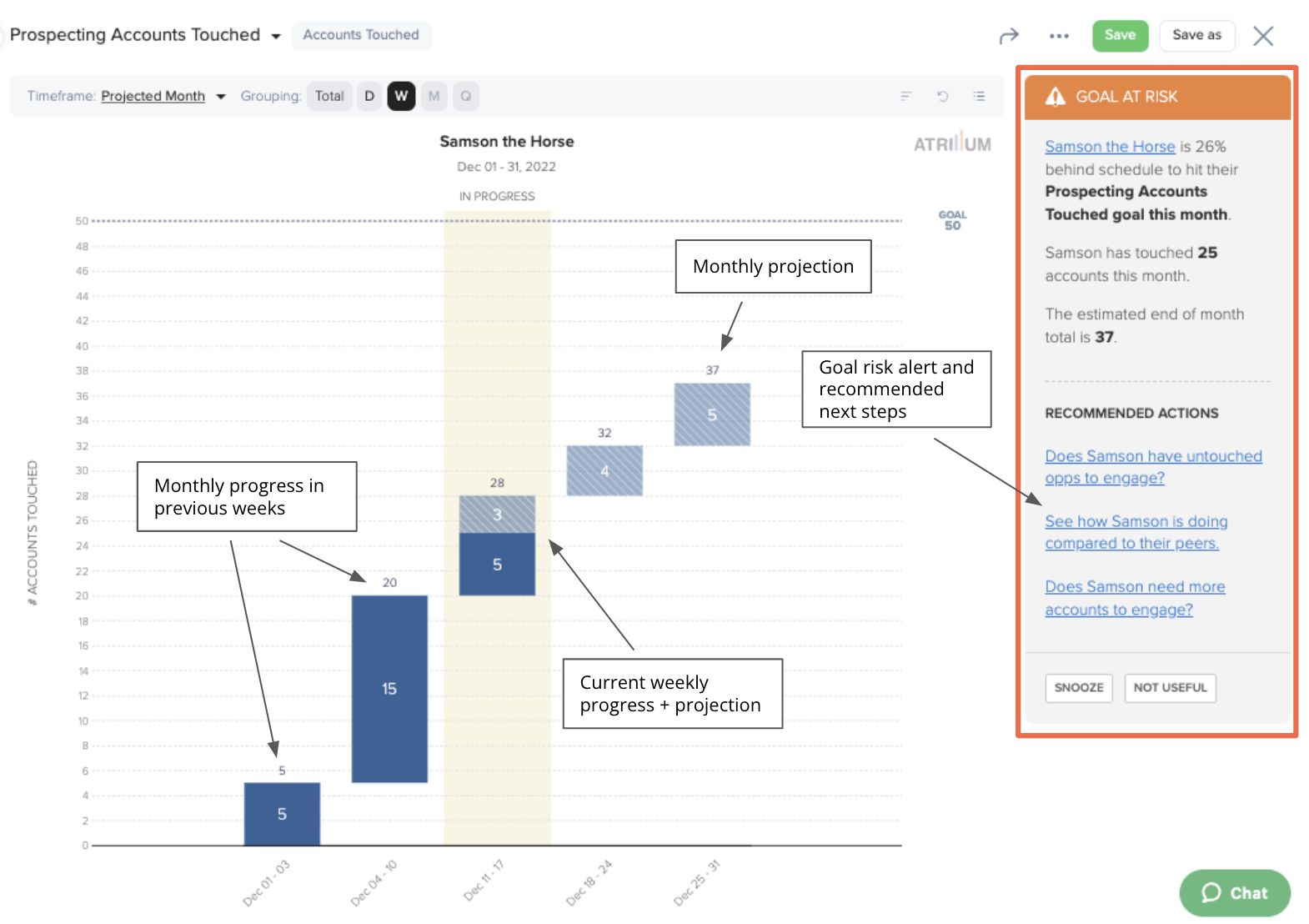 Goal Progress, In Your Inbox (and Slack!): But what's the point of setting goals if you're not regularly checking in on their progress?
With Atrium subscriptions, you'll receive regular updates straight to your inbox or Slack that let you know how your team is progressing. Atrium sends in-progress updates for the week, month, and quarter, as well as completion reports at the end of each time period, making it incredibly easy to see who's crushing it, who is on track, or who may need some coaching.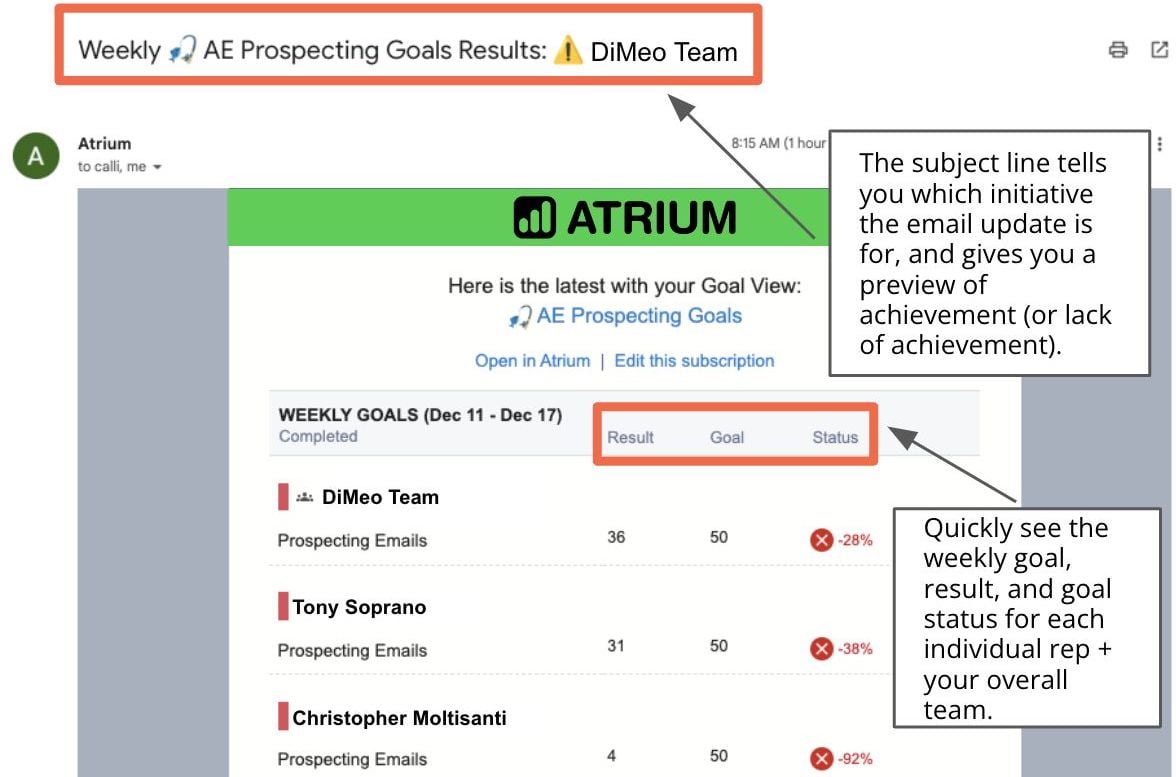 You'll also receive regular updates around how your team is trending towards their in-progress goals, as shown in this monthly progress email.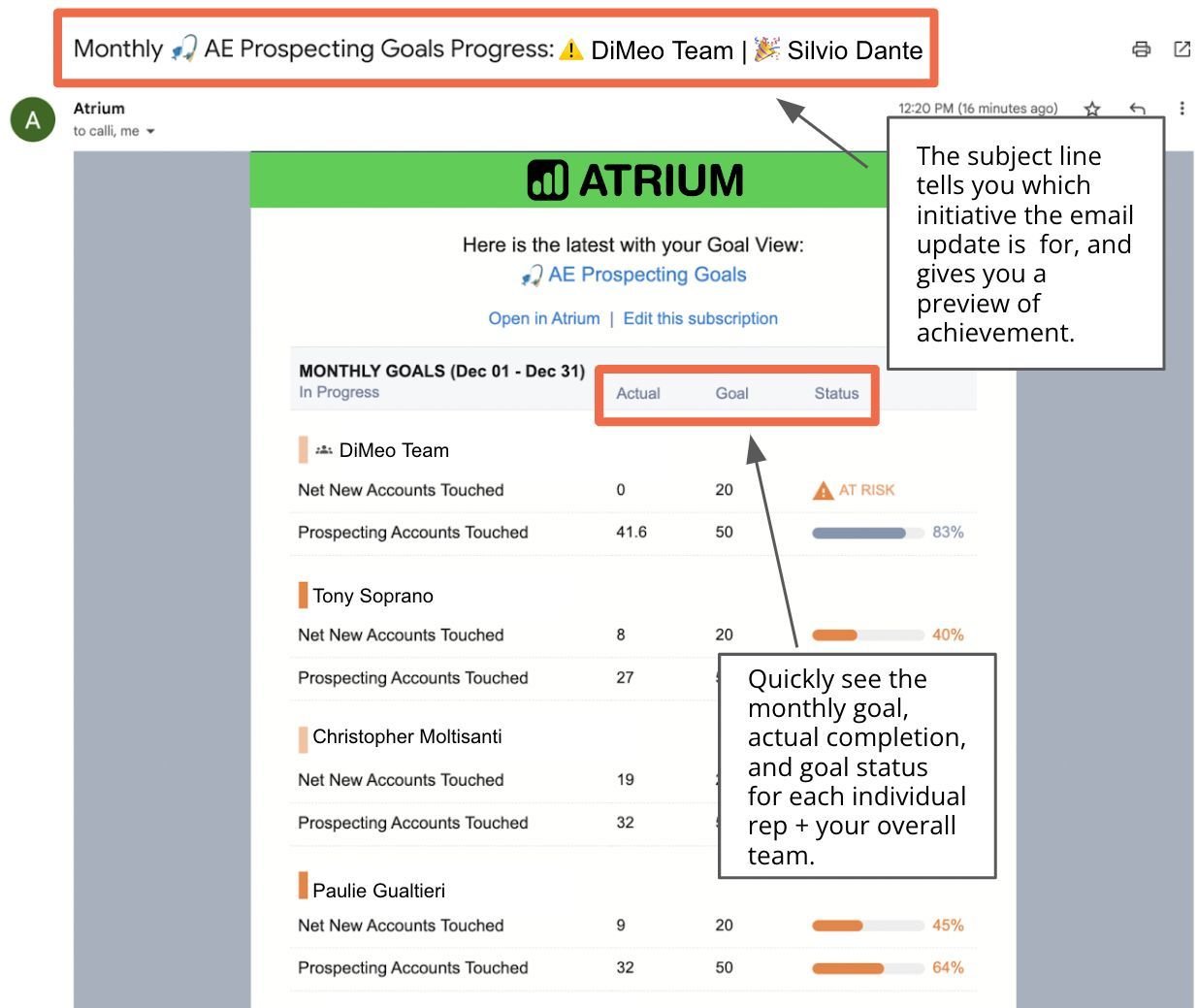 This Slack alert shows a weekly completion report for the previous week's goals.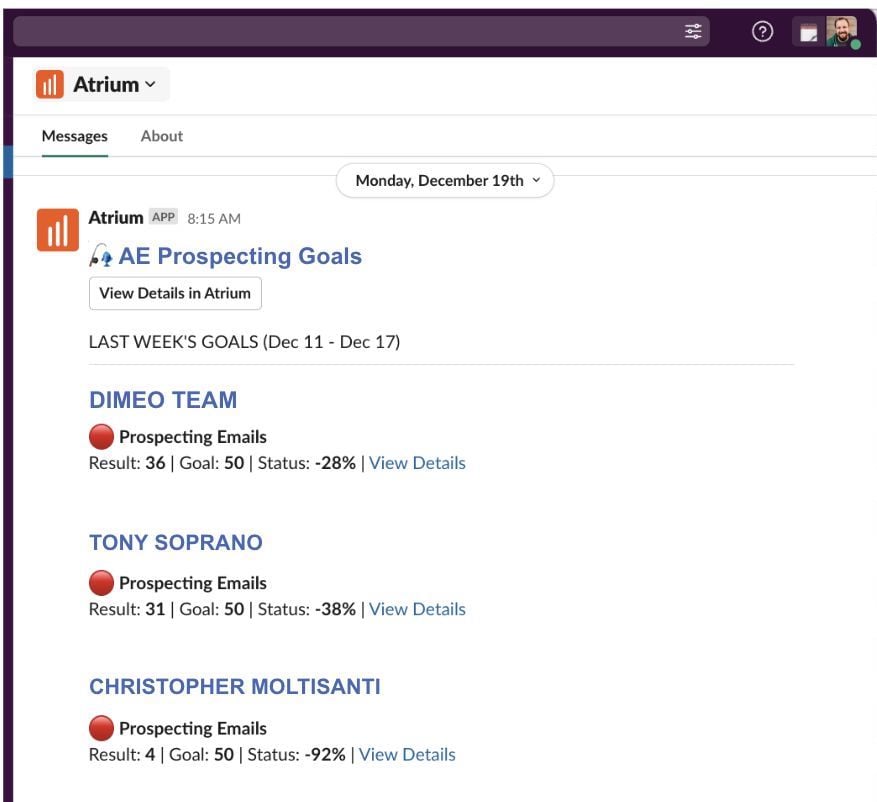 That's world-class sales goal management if you ask me!

Modern sales managers and leaders must be managing their teams with goals in order to drive efficiency and stay focused on the skills, initiatives, and upstream metrics that will allow them to hit quota quarter after quarter.
For more information on goal-setting for your sales team, check out this masterclass with Atrium's Co-Founder and CRO, Pete Kazanjy, where he talks through how to set AE & SDR goals that don't suck. You can find the deck here!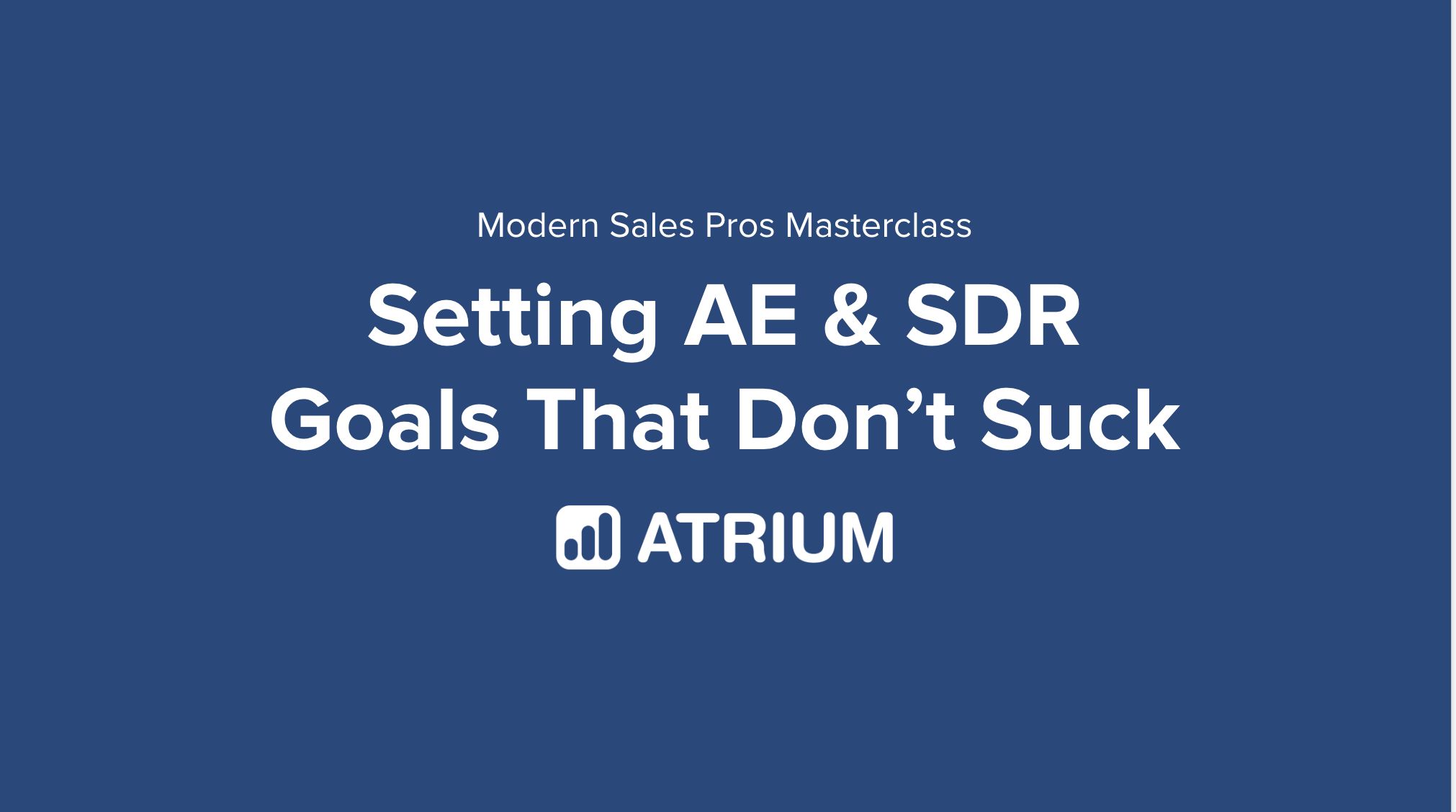 That's all folks!
If you'd like to utilize any of these great features but need some help getting started, your Atrium CSM would love to help!
Thanks so much for being an Atrium customer. Can't wait to share all of the exciting updates we have on the books for 2023!