How SalesLoft Sets the Gold Standard for Sales Development
The Sales Development function is the tip of the spear when it comes to your business. In 2020, even amidst a rocky labor market last year, the highest growth firms continued to build up their Sales Development function (according to The Bridge Group). How will you get the most out of your SDR investment?
This panel is hosted by Pete Kazanjy, co-founder of Atrium and Gerry Praysman, Sr. Director of Sales Development at SalesLoft who drop some great knowledge about the metrics, frameworks and coaching you need to deliver to become an amazing SDR leader.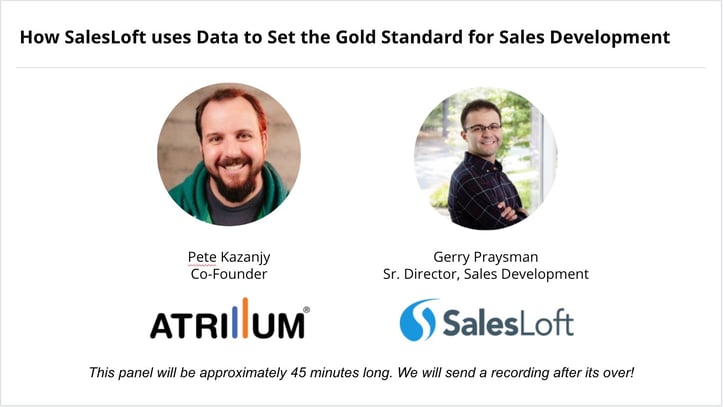 Key takeaways from this panel:
When setting goals, work backward. Figure out the best metric to go after, set benchmarks, and go from there.

Don't forget to celebrate your losses together as a team. We learn from failure, so any fail is an opportunity for the team to put their heads together to figure out an improvement.

During your SDR training sessions, make space to focus on upskilling for their next role. The opportunity to move up is a natural self-motivator and will help your SDR's learn about which metrics you're tracking early on.
---
Get MORE Insights Out of Sales Performance Metrics
It can be overwhelming to effectively inspect and understand rep metrics. Our Sales Performance Metrics Inspection & Diagnosis guide maps out which input metrics drive which output metrics—and their relationships—for both AEs and SDRs.