B2B sales teams are reckoning with a new way of working. According to a recent Atrium survey (of 400+ sales managers) 95% of teams are either fully distributed or in hybrid mode, with 74% expected to grow their teams in a distributed form in the next 12 months! As a result, sales managers are more vulnerable than ever to blindspots in rep performance.
Add Gong Metrics to Complete Your Picture of Rep Performance
To that end, I'm excited to announce our new integration with Gong. The visibility that Gong provides into deal execution - from first call to close - combined with the hundreds of metrics already available in Atrium will make it easier than ever for sales managers to get a complete picture of rep performance - enabling them to better ramp, coach, goal, and develop their teams.
Once you've authorized Atrium to analyze your Gong data, you'll be able to see the following metrics I've listed out below!
As usual, you can set goals for these metrics, put them in dashboards, and get anomaly alerts just like with our other metrics.

Talk Ratio
Are your reps listening to prospects and their needs rather than talking? This metric provides a measurement of rep effectiveness by indicating the proportion of time a rep spends speaking in a meeting, which also gives information about how well that rep was able to engage the prospect to participate. You generally want to keep your Talk Ratio as low as possible.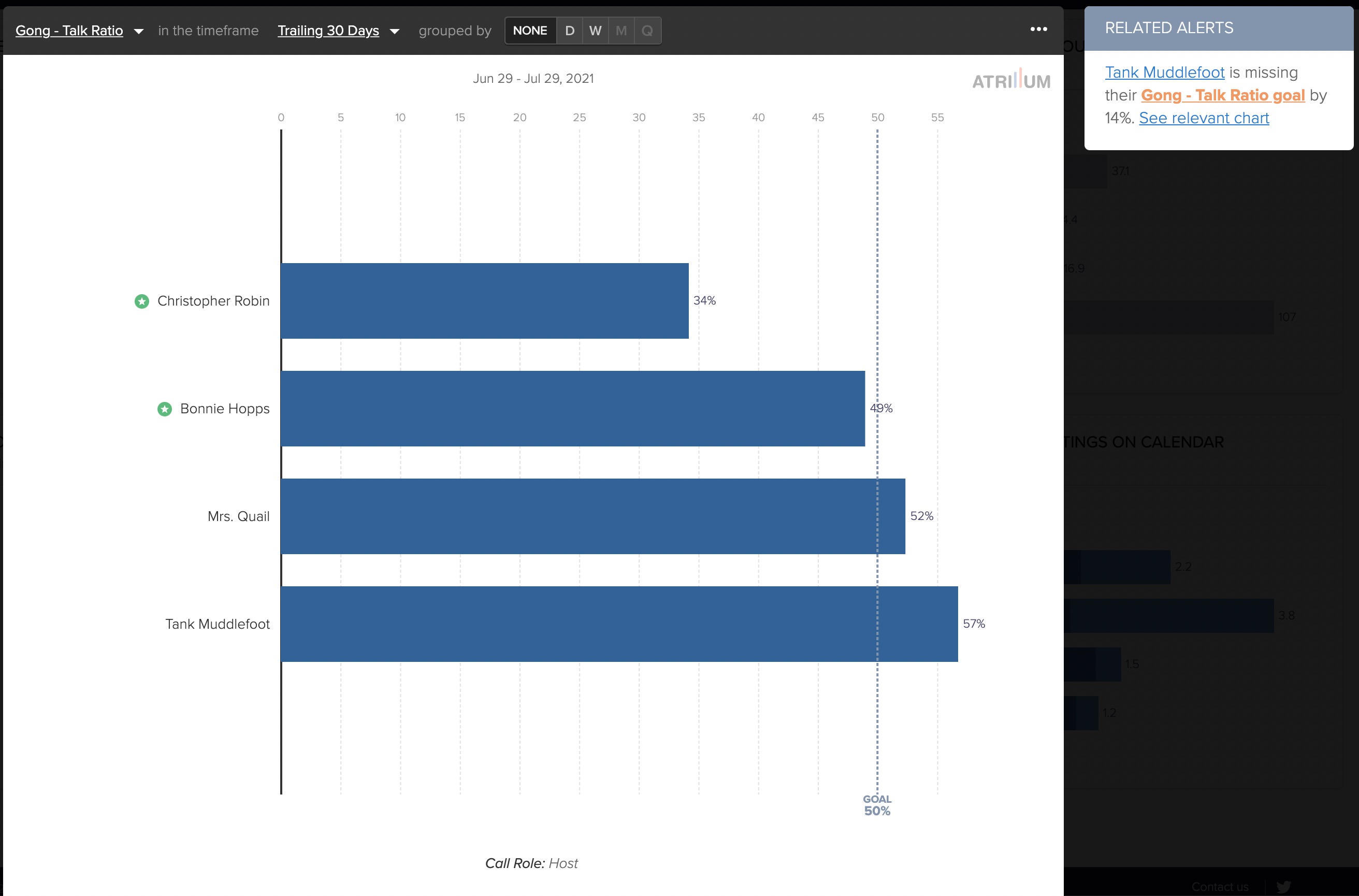 Patience
This indicator highlights whether the rep is being thoughtful in responding to prospect questions and objections. It shows the average amount of time reps wait to speak once their prospect has finished speaking. Gong recommends that reps wait between 0.6 and 1 second to ensure adequate thought is put into how to respond before doing so.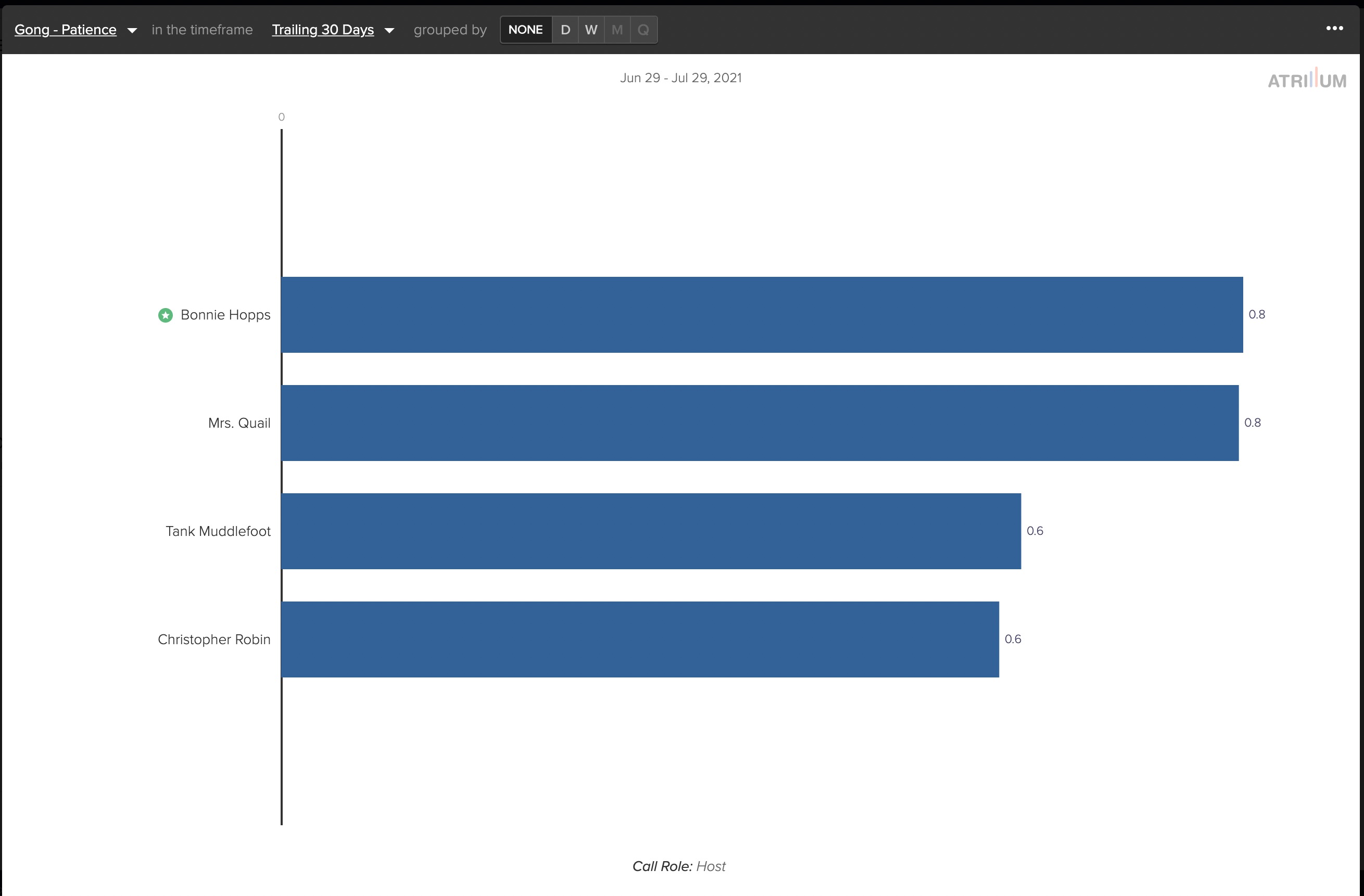 Question Rate
Reps should be uncovering prospect pain and the successful ones do this by asking a lot of questions. This metric shows the average number of questions asked by a rep per hour of talk time and can indicate how well reps are engaging their prospects.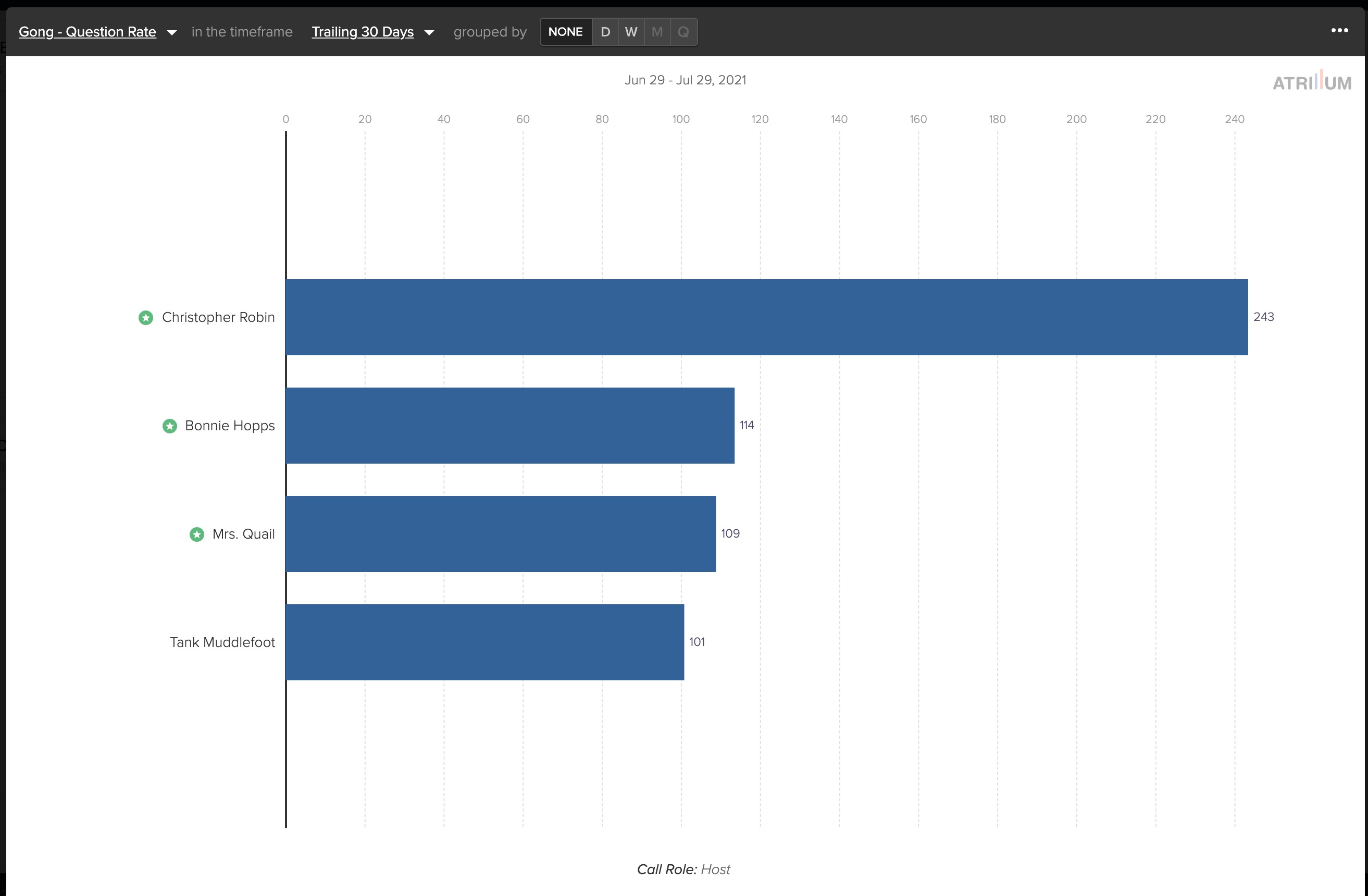 Interactivity
Reps should be letting prospects talk, while guiding them to uncover pain points that match the product being sold. Successful reps thus are frequently going back and forth with their customers. This metric shows how frequently speakers switch during a call based on a Gong score of 0-10. According to Gong, the recommended rating is 5 or more.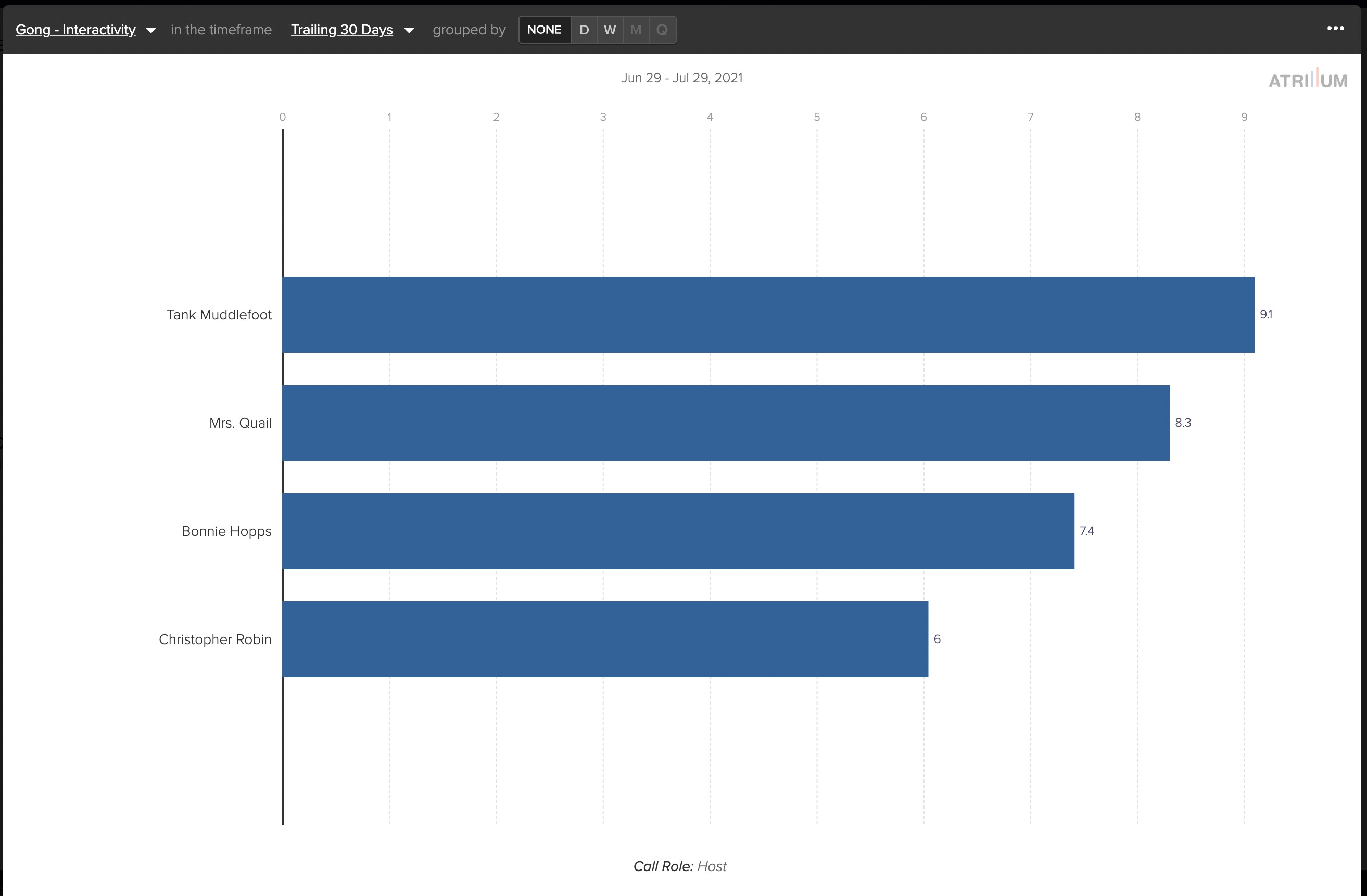 Longest Monologue
Reps should be letting their users talk rather than rambling as they guide prospects to uncover pain points. This metric shows the average time of a rep's longest monologue across all calls during a given timeframe.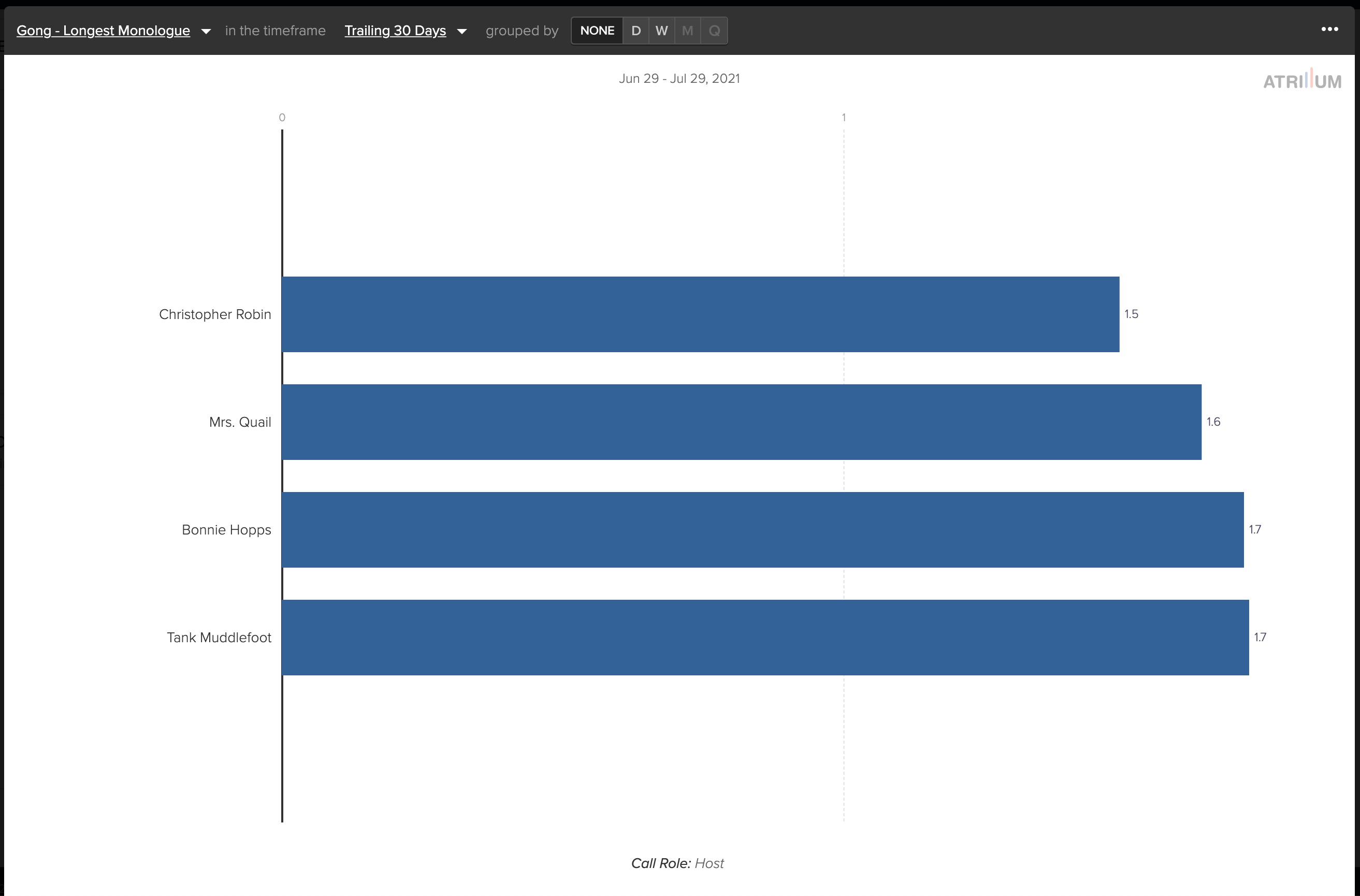 Tracker Frequency
Are your reps steering the prospect conversation towards certain topics or pain points that accentuate your differentiation? Are they suggesting the right solutions based on need? Are they bringing up the right value propositions? This metric shows the percentage of calls where a given key word or phrase ("tracker") was mentioned in their calls. It can help you to monitor whether key concepts and qualification criteria are being discussed during a call.
See the Metric / Learn More


See for yourself!
Want to see how data-driven sales management can help your managers improve team performance? Sign up now - it takes less than 90 seconds to get started.
And if you're an Atrium customer, you've already got access to all this goodness. Activate your Gong integration and start using Gong data in your daily management cadences now!